Texas GOP Lawmaker Jared Patterson's Pro-Gun Tweet After Austin Shooting Draws Backlash
A Texas state representative was blasted online after posting comments promoting pro-gun legislation following Sunday's deadly shooting in Austin that killed three people.
Representative Jared Patterson took the tragedy as an opportunity to tweet the same day about HB 1927, a bill approved by the House of Representatives last Thursday that eliminates licenses for handguns in Texas unless the person is prohibited by state or federal laws from owning a firearm. The current license requirement means those who wish to carry a handgun, either openly or concealed, must submit fingerprints, undergo a criminal background check and provide proof of training.
"Evil exists in this world. HB 1927 gives law-abiding citizens the ability to fight back, to protect themselves and their families w/out being restricted by the govt," Patterson tweeted. "God bless and comfort those killed and affected by the shooting in Austin today. It's time for us to fight back."
The shooting took place at an apartment complex in northern Austin, according to police, who spent Sunday night searching for suspect Stephen Broderick, 41, a former sheriff's deputy who resigned last summer after being charged with sexual assault of a child. It marked the fourth mass shooting in Texas in April.
Social media users fired back at Patterson, citing increases in Texas' firearm deaths since 2013 that parallel the passage of legislation expanding unrestricted gun access, including fellow state legislators like Democratic Representative Vikki Goodwin. Data from the U.S. Centers for Disease Control and Prevention show a 33 percent uptick over the past seven years, averaging 12.7 deaths per 100,000 as of 2019.
But Patterson dug his heels amid an onslaught of users expressing their outrage, arguing that the legislation is necessary for Texans to "protect themselves."
"Owning guns and being able to carry them are two different things. Glad to support the right of free people to protect themselves with HB 1927 this past week," Patterson said. "Why don't you want people to be able to protect themselves?"
Texas Democrats who opposed the legislation have advocated for more stringent permit requirements as gun violence has proliferated in the state. Celia Israel, who represents Austin in the House, said Sunday that passage of HB 1927 would be a threat to public safety in Texas. The bill goes next to the state Senate for consideration.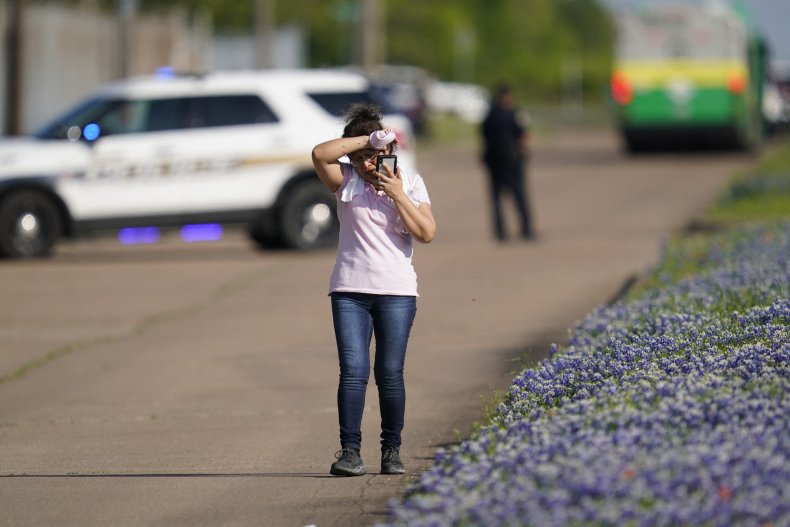 "After shootings in Midland/Odessa and El Paso, we need to pass smart legislation that protects Texans from gun violence," Israel said on Twitter. "I voted against permitless carry because it's senseless legislation that only puts Texans in more danger."
Newsweek reached out to Patterson for comment but did not hear back in time for publication.