Texas GOP Mayor Doubles Down on Calling Greg Abbott's Removal of Mask Mandate 'Premature'
Republican Fort Worth, Texas Mayor Betsy Price stood by her previous remarks against Governor Greg Abbott's removal of the statewide mask mandate, calling it "premature."
During an interview with CNN Thursday morning, Price was asked if she thinks the removal of the mandate makes Texans less safe.
"Yeah, we're trending in the right direction," the mayor responded. "But we're definitely not out of the woods yet, and I think it's a bit premature. I've stated that publicly." She also added: "We have to encourage [the] personal responsibility of our residents."
Newsweek was directed to the comments Price made during her Thursday interview after reaching out for comment.
Price's latest remarks echoed ones she made on Tuesday, after Abbott announced the removal of the mandate.
"In light of the Governor's Executive Order today, which I believe was premature, and an anticipated increase in vaccine supply in Texas in the coming weeks, two things are vital going forward," Price wrote in a statement on Twitter. "First, we must continue taking all of the same safety precautions recommended by the CDC, including mask-wearing, social distancing, hand washing, etc."
On Tuesday, Abbott announced the removal of the mask mandate, as well as easing COVID-19 restrictions on most businesses.
"It is now time to open Texas 100 percent," the governor said.
"Removing state mandates does not end personal responsibility," he added. "Today's announcement doesn't abandon safe practices that Texans have mastered over the past year. Instead, it's a reminder that each person has a role to play in their own personal safety & the safety of others."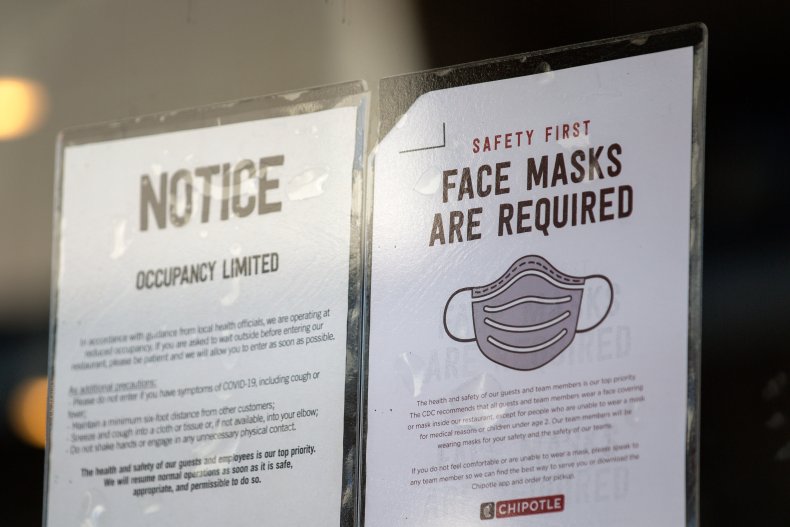 In addition to Price, several other Texas officials appeared to disagree with the removal of the mask mandate.
On Wednesday, El Paso Mayor Oscar Leeser urged residents to continue following COVID-19 mitigation efforts, saying "It's not time to take a step back. It's a time to look and act as a community, united."
"So, I ask the community, and I ask the people of El Paso, to please wear masks. It's really important that we wear masks," he added.
Bexar County Judge Nelson Wolff also called Abbott's decision "premature," adding: "I'm very disappointed, it's an irresponsible action. We still have 464 people in the hospital and 199 in ICU as of yesterday."
Newsweek reached out to Abbott's office for comment, but did not receive a response in time for publication.