Texas GOP Rep. Pat Fallon Asks House to Condemn State Dems Over Tim Scott 'Oreo' Facebook Post
Rep. Pat Fallon (R-Texas) on Wednesday introduced a House resolution to condemn the entire Texas Democratic Party over Lamar County Democratic Party Chair Gary O'Connor calling Sen. Tim Scott (R-S.C.) an "oreo."
Fallon's resolution notes that "the Democratic Party of Texas has refused to discipline O'Connor or revoke his chairmanship" despite calls to do so. It proposes condemning both O'Connor for his remarks and the party for its refusal to condemn the remarks.
"The Democratic Party of Texas's refusal to condemn a racist remark by their Lamar County Chair and the county party's refusal to accept his resignation is astounding," Fallon said in a statement. "Had a Republican chair made this remark, Democrats would be in the streets demanding his or her resignation."
"If the Democrats didn't have double standards, they'd have no standards at all," he added. "They must be held accountable."
Scott, the only Black Republican in the Senate, delivered the GOP rebuttal to President Joe Biden's address to a joint session of Congress last week. The speech included opposition to Biden's recent spending proposals, while the senator also insisted that "America is not a racist country" and recalled getting "called Uncle Tom and the n-word by progressives."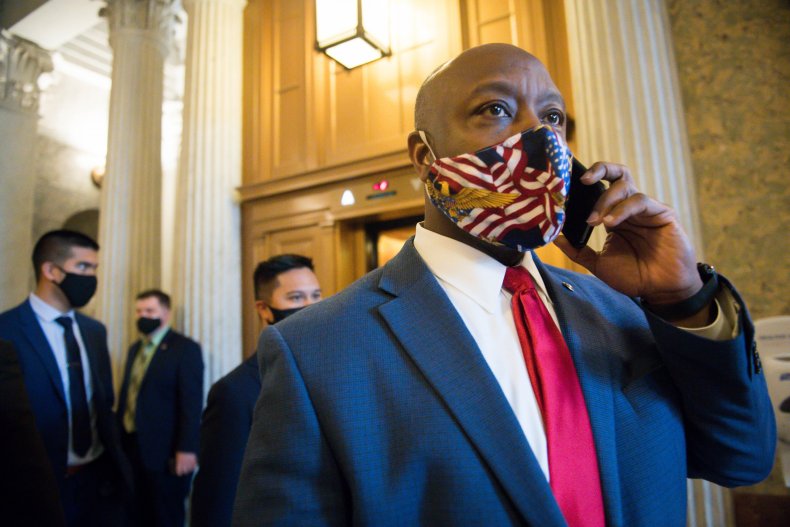 In a since-deleted Facebook post made shortly after the rebuttal, O'Connor commented that he "had hoped that Scott might show some common sense, but it seems clear he is little more than an oreo with no real principles." In this context, "oreo" is a slur referring to a Black person believed to have taken on characteristics associated with white people.
The House resolution was cosponsored by Fallon's Texas GOP colleagues Rep. Michael Burgess, Rep. Roger Williams and Rep. Randy Weber. Fallon previously issued a statement demanding that O'Connor "apologize and step down immediately." O'Connor did issue a public apology for his remarks on Tuesday, while also submitting his resignation as chair of the Lamar County Democratic Party.
"To Sen. Tim Scott, the residents of Lamar County, especially our Black residents, and to my family and friends, I profoundly apologize for the racially insensitive remark I made towards Sen. Scott last week," O'Connor said in a statement. "I was wrong and I apologize."
However, the Lamar County Democratic Party said that it decided to refuse O'Connor's resignation after "much discussion," reasoning that his apology was enough.
"After much discussion — especially among our local Black Democrats — we chose not to accept Mr. O'Connor's resignation," the party wrote on Facebook. "Mr. O'Connor has written a public letter of apology to Sen. Tim Scott, and Lamar County Democrats join him in this apology... His recent remark is incompatible with his core values."
The Texas Democratic Party declined Newsweek's request for comment on Fallon's resolution. Instead, the party pointed to a statement it issued in response to Texas GOP Chair Alan West, one of many Republicans in the state who quickly denounced O'Connor for his remarks and demanded consequences.
"After years of looking the other way while the GOP fueled a rise in hate and racism across the country, West and Republicans are playing politics and wasting legislative oxygen on a mistake made by a Democratic county party chair," the statement read.
"A mistake for which Chair O'Connor has profusely apologized and taken responsibility for, and which has sparked anti-racist self-examination, and serious commitment to doing better, by the Lamar County Democratic Party," it continued. "Something that has been markedly absent in West's own party."