Texas GOP Senator John Cornyn is facing criticism after saying we "still don't know" whether children can catch coronavirus in an interview with KXAS-TV on Thursday.
"No one under the age of 20 has died of the coronavirus," Cornyn said when asked about the safety of reopening schools in the fall. "We still don't know whether children can get it and transmit it to others."
However, data from the Texas Department of State Health Services show a different picture. Texans under the age of 19 have accounted for more than 1,700 of the state's confirmed cases of COVID-19. Earlier in April, a 17-year-old from Dallas died from complications due to coronavirus.
There has also been an increase in infections among child care operations in Texas. Nearly 600 cases of the 1,799 reported cases in those businesses were among children, according to the Texas Health and Human Services Commission.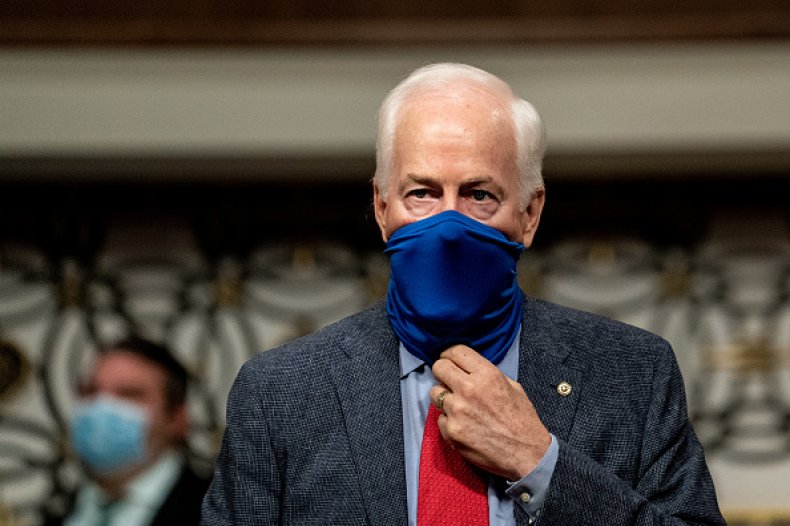 Cornyn's office clarified on Friday that the senator had been referring to a tweet from former FDA commissioner Dr. Scott Gottlieb that said data has shown children are "less likely to become infected and less likely to transmit infection."
Gottlieb notes in the tweet, however, that "while kids are less vulnerable, less risk doesn't mean no risk."
A spokesperson for Cornyn told Newsweek that his remarks are being "widely misinterpreted" for political reasons.
"His comment is being widely misinterpreted on social media and unfairly twisted by partisan Democrats for political gain," Deputy Press Secretary Jeff Guittard said. "Senator Cornyn was not questioning whether children can catch the virus - of course they can. He was questioning the likelihood that children can catch it and THEN transmit it, which Dr. Gottlieb has also expressed."
When asked if schools in Texas should be teaching classes in-person, Cornyn told the station, "I think the most important thing is safety. The schools can open, but if parents don't feel comfortable sending their children back then they won't go. So, I think we've got a long way to go to regain their confidence."
However, Texas Democratic Party Cornyn War Room Spokesperson Billy Begala said the senator is putting students and teachers at risk.
"Cornyn's dangerous misinformation jeopardized the health and safety of Texas schoolchildren, their teachers, and their families in a reckless effort to excuse Donald Trump's demand that schools reopen," Begala said in a statement made Friday. "Texans want a senator who values their safety over all else. Voters are fed up with John Cornyn's misdirections, lies and excuses. Enough is enough."
This is not the first time Cornyn has faced backlash over the course of the new coronavirus pandemic.
When the outbreak first reached the U.S., the senator tweeted a picture of a Corona beer captioned "don't panic." He then went on to defend President Donald Trump's use of the term "Chinese virus," which has been heavily criticized as a racist and xenophobic term.