Texas GOP Senators Raise Concerns As Trump Admin Closes COVID-19 Test Sites
Republican U.S. senators from Texas have pushed back against the Trump administration's decision to cut federal funding for seven coronavirus testing sites in their state.
Sens. John Cornyn and Ted Cruz said now was "not a time to retreat" from the testing sites, and urged federal authorities to extend support for the locations in Texas.
Several other Texas officials joined their call, with four state congresspeople writing a letter to the Department of Health and Human Services (HHS) and the Federal Emergency Management Agency (FEMA) to express "urgent concern" about the plans to wind down support for the testing sites.
The Trump administration announced on Wednesday that it would stop sending financial support to 13 coronavirus testing centers at the end of this month, despite the continued spread of the disease.
More than half the sites impacted by the move are in Texas, with the remainder located in Illinois, New Jersey, Colorado and Pennsylvania.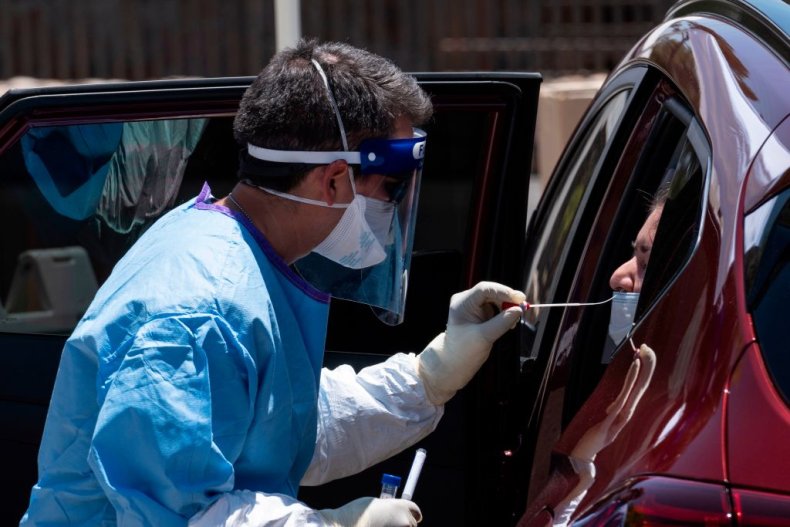 Speaking on a call with local reporters yesterday, Sen. Cornyn said: "I know there's concern, concern I share, over some of the statements being made about withdrawing federal support for coronavirus testing in Texas at the end of June.
"It's pretty clear to me, and I think it's clear to all of us, that with the uptick of cases, now is not a time to retreat from our vigilance in testing.
"I believe that they need to extend that federal support in Texas, at least until we get this most recent uptick in cases addressed."
A spokesman for Cruz also told NBC News that the senator would "continue to urge [health officials] to extend the community testing sites in Texas."
In a letter to the health department and FEMA dated June 23, four House representatives from the Lone Star State raised further concerns about the move, saying it would be both "harmful and irresponsible"
"We urgently ask you to extend FEMA's presence at these testing sites through August 30, 2020," the lawmakers wrote.
The letter was signed by Democratic Reps. Sylvia Garcia, Al Green, Lizzie Fletcher and Sheila Jackson Lee.
In an emailed statement, the Department of Health and Human Services spokesperson Mia Heck told Newsweek: "We have been working closely with officials from Texas and would consider a request to extend if it was requested."
Four of the seven Texas coronavirus testing sites set to have their federal backing withdrawn are located in Harris County, the home of Houston. The Houston Chronicle reported that two of the supported sites administered roughly 750 COVID-19 tests every day.
The city's top health authority, Dr. David Persse, warned the U.S. deputy surgeon general on Saturday that the withdrawal of federal support for testing sites in Houston would place an "unnecessarily difficult operational burden on our response operations" and hamper the city's efforts to quell the spread of the virus.
At the time of writing, more than 125,000 coronavirus cases have been confirmed in the Lone Star State, according to Texas Department of State Health Services figures.
The public health body warned that COVID-19 was spreading at its fastest rate yet in the state on Wednesday after more than 5,000 new cases reported within the space of a day.
The graphic below, provided by Statista, shows the daily number of new COVID-19 cases reported in the U.S. since March.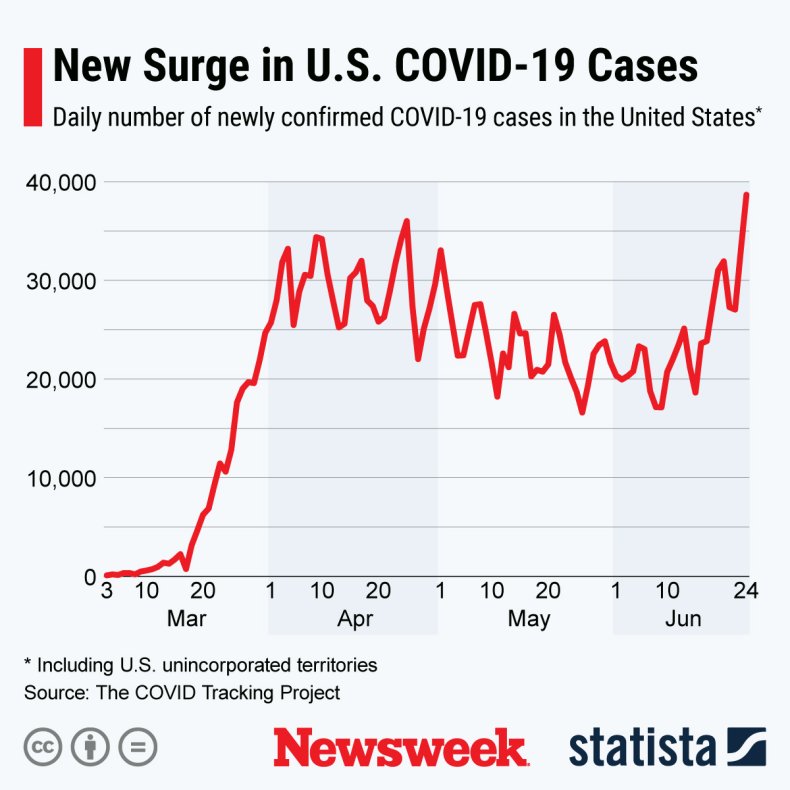 This article was updated to include a statement from the HHS.