Texas GOP Sues Republican Gov. Over Extending Early Voting Period By 6 Days
Texas Governor Greg Abbott has been accused of attempting to "act as a king" as he faces a lawsuit from his own Republican party for extending early voting in the state by six days.
Abbott was sued Wednesday by Republican Party of Texas and its chairman Allen West, Agriculture Commissioner Sid Miller, multiple Texas legislators and several other prominent Republicans in the state for deciding to allow voters to begin casting ballots on October 13 instead of October 19, the date dictated by Texas Election Code.
"Governor Abbott seems to have forgotten that the Texas Constitution is not a document that he consults at his convenience," Jared Woodfill, an attorney for the plaintiffs, said in a statement to The Texas Tribune. "It is an uninterrupted charter of governmental structure that limits the Governor Abbott's ability to act as a king."
Abbott has recently fallen out of favor with many Texas Republicans due to his response to the COVID-19 pandemic. The governor cited health concerns and the pandemic's impact on voters when making the decision to expand early voting in late July, while he has joined other GOP lawmakers to successfully oppose Democratic efforts to expand mail-in voting.
In early July, Abbott began increasing preventative measures in response to a large spike of COVID-19 cases, including mandating face masks. New cases have continued to steadily decline after reaching a peak of over 10,000 infections per day in mid-July.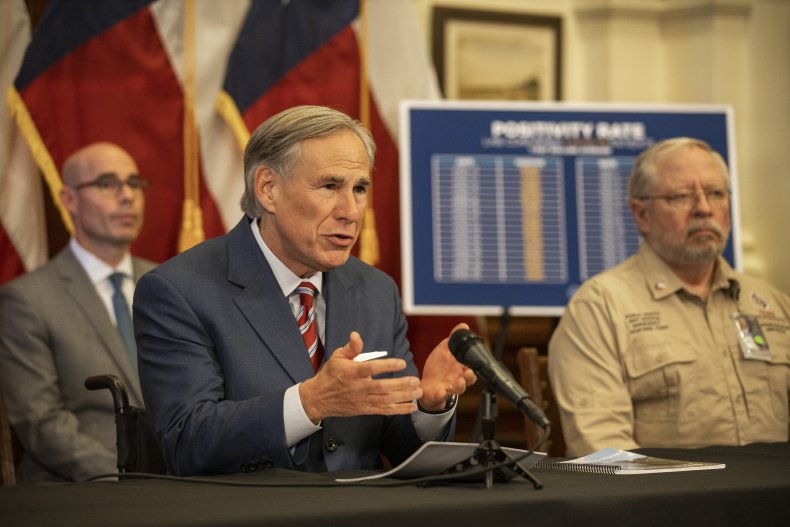 The first plaintiff named in Wednesday's legal petition, which lists Texas Secretary of State Ruth Hughs as the respondent rather than Abbott directly, is conservative activist and supplement salesman Dr. Steven Hotze. In addition to voting rights issues, Hotze has taken recent legal action against public health measures amid the pandemic.
In a March 24 Facebook post, Hotze claimed that "the coronavirus pales in significance when compared to the annual flu pandemic," while recommending that those concerned about their health adopt an "immune strengthening program" as he touted "Dr. Hotze's Immune Pak," a package of vitamins and probiotics he sells on his website for $125.
The lawsuit describes Abbott's response to the virus as "overreach," demanding that early voting be moved back to begin on October 19 while election officials are to "only allow the delivery of a marked ballot in person to the early voting clerk's office while the polls are open on election day."
"Governor Abbott's actions constitute a violation and result in harm to Plaintiffs and their due process rights," the lawsuit claims. "Abbott's Executive Orders are unprecedented and have had life and death implications, destroyed small businesses and family's livelihoods, have had a crippling effect on every single community, and now have the ability to impact local, state and national elections."
Newsweek reached out to Abbott's office for comment.