Texas GOP's Rising 'Young Gun' Accused of 'Cruel and Aggressive Conduct' Toward Child
A Republican congressional candidate who was just described as a promising "young gun" by House Minority Leader Kevin McCarthy was accused of "cruel and aggressive conduct" toward her estranged husband's 14-year-old daughter.
Court records obtained by The Washington Post reveal that Monica De La Cruz, who's running in Texas' 15th Congressional District, is accused of verbal abuse and pinching the child to stop her from crying. The accusations come from De La Cruz's husband, Johnny Hernandez, who petitioned for the divorce.
Hernandez alleged in documents filed in the Hidalgo County district court that De La Cruz, whom he married in 2015, mistreated him and his daughter.
"In one incident described in the petition for divorce, Hernandez says that on a recent Sunday at church, his daughter began crying after some coffee was spilled. He alleges that De La Cruz took her to the bathroom and pinched her to stop her from crying, rather than try to console her," the Post reported.
He also accused the Republican candidate of verbally abusing his daughter and alleged that she threatened to divorce him in August if he invited his daughter back into their home after she was hospitalized.
"Unfortunately it got to that point where I had to make a decision for the best sake of my daughter," Hernandez told the Post. "She didn't want to go to parenting classes and she didn't want to make things better for my daughter."
Hernandez continued that he wasn't happy to see De La Cruz then mention his daughter in a tweet announcing that the couple was separating. De La Cruz agreed to move out of their family home on October 19, according to court documents.
She wrote that although it isn't what they want, they believe it's the best decision and added that they're dealing with "mental health issues" in the family. De La Cruz asked for prayers and support but said she remains "committed to being a devoted, loving mother" to her children.
Hernandez told the Post that he thinks De La Cruz is putting her campaign ahead of their family and that she's using his daughter "for sympathy votes."
"My daughter is going through mental health issues and she should not be using that on her campaign page. She needs to take that down," he said.
De La Cruz responded to the allegations and insisted they're not true.
"These accusations are false and I'm heartbroken that as we work through some mental health issues that involve a minor, this deeply personal matter is now being exposed in the national press. My number one concern will always be the wellbeing of all of my children, and I would appreciate your prayers and continue to ask for privacy for our family," she said in a statement to Newsweek.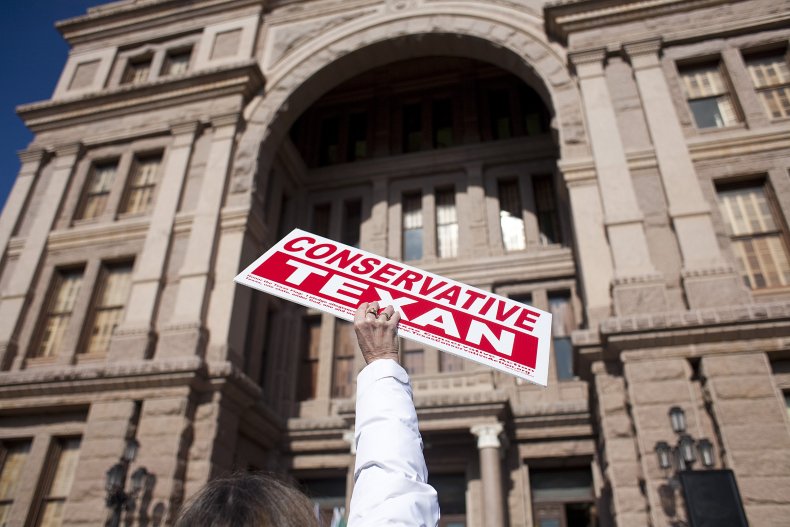 Earlier this week, McCarthy, a Republican from California, said that De La Cruz was a "young gun"— a designation given to GOP candidates by the party if they've "met a series of rigorous goals and surpassed program benchmarks to establish a clear path to victory."
De La Cruz is running for a vacant seat left by Representative Vicente Gonzalez Jr., a Democrat who's changing districts. She ran against him in the 2020 election and lost by 3 percentage points, the Post reported.
On Monday, the GOP candidate attended a National Republican Congressional Committee fundraiser where former President Donald Trump spoke.
"Proud to represent #TX15 at the NRCC Countdown to the Majority dinner with special guest Donald J Trump," De La Cruz wrote on Twitter. "I am humbled to lead this great district to #VICTORY in 2022! Together we will TAKE BACK THE HOUSE and #FIRE Nancy Pelosi. Let's Go Brandon!!"