Texas Gov. Greg Abbott Toughens Bans on Mask and Vaccine Mandates
Texas Governor Greg Abbott issued an executive order on Thursday, strengthening and expanding statewide bans on mask and vaccine mandates.
In addition to extending existing bans in the state, Abbott's new order restricts any entity that receives public funding or loans of any kind from requiring masks or vaccines.
"Today's executive order will provide clarity and uniformity in the Lone Star State's continued fight against COVID-19," Abbott said in a statement. "The new Executive Order emphasizes that the path forward relies on personal responsibility rather than government mandates. Texans have mastered the safe practices that help to prevent and avoid the spread of COVID-19."
COVID-19 cases are on the rise in Texas. The seven-day average of new COVID-19 cases in the state was 6,659 as of Wednesday, meaning it had nearly doubled from the 3,901 case average of the week before.
"Business activities and legal proceedings are free to proceed without COVID-19-related limitations imposed by local governmental entities or officials," the order says. It also supersedes any previous orders, including by local officials.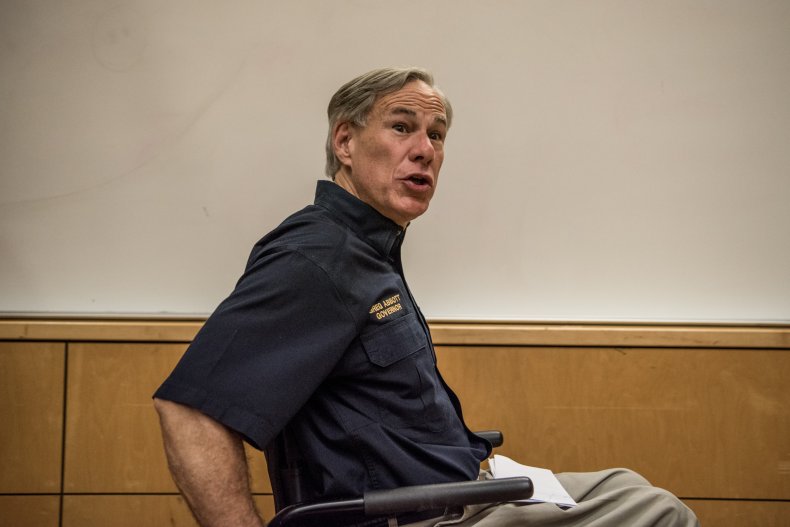 Small governments within the state now cannot restrict business capacity, even if hospitalization rates are over 15 percent in an area. The order comes just as hospitalizations topped 15 percent in the area surrounding Galveston on Thursday.
"No governmental entity, including a county, city, school district, and public health authority, and no governmental official may require any person to wear a face covering or to mandate that another person wear a face covering," according to the order.
However, there is provision for when masks may be required using "appropriate policies" in state-supported living centers, government-owned hospitals, and state criminal justice buildings.
The order, which specifically forbids local officials from requiring workers or consumers to get the vaccine, comes one day after Austin Mayor Steve Adler asked the city manager to require most city employees to be vaccinated. A city spokesperson reportedly responded, "the Governor's Executive Order GA-35 prohibits the City from requiring vaccinations."
After signing the order, which some say runs contrary to updated CDC guidance on mask-wearing, Abbott tweeted that it "emphasizes that the path forward relies on personal responsibility rather than government mandates."
The order says "receiving a COVID-19 vaccine under an emergency use authorization is always voluntary in Texas and will never be mandated by the government. But it is strongly encouraged for those eligible to receive one."
The wording around current vaccines' "emergency use authorization" leaves the door open for questions about whether or not Texans could be mandated to receive a vaccine once the Federal Food and Drug Administration grants COVID vaccines full use approval.
Newsweek reached out to Governor Abbott for comment on this issue but did not hear back in time for publication.