Texas Gov. Says 'No More Shutdowns' Despite Over 100K COVID Cases Recorded in Past Week
Texas Governor Greg Abbott said Thursday there will be "no more shutdowns," despite the state recording more than 100,000 cases of the coronavirus over the past week.
"One thing that has been clearly apparent, and that is there's no governmental leader anywhere who has been able to figure out how COVID works," Abbott said during a press conference. "So the fact of the matter is it is time to put behind us shutdowns. No more shutdowns. We need to focus on opening up businesses."
Abbott went on to discuss other states that have imposed shutdowns, such as California, and how cases of the virus have continued to rise in those places.
"We've seen these massive shutdowns of businesses in California that have led to only a greater spike in the spread of COVID-19," Abbott said. "California has some of the toughest shutdowns that we have in the United States of America, and yet they are skyrocketing and leading the United States in the number of cases.
He continued, "Oftentimes when you do have shutdowns, you have people going to homes, and one thing we've learned now is that one of the places where COVID-19 is spreading the fastest and causing the greatest problems is in the home setting."
The Texas governor added that it is residents' responsibility to help mitigate the spread of the virus in the state.
"Every adult in Texas has the responsibility to follow the same practices as we continue to work our way out of this. If they do that, we can contain COVID-19 while we continue the process of vaccinating our fellow Texans," Abbott said.
"People's lives have been crushed. And their pocketbooks and their ability to pay rent and put food on the table have been harmed because of the shutdowns. And so, no, we will not have any more shutdowns in Texas."
Texas was one of the first states to lift its stay-at-home order, on April 30. But on June 26, Abbott reimposed mitigation efforts, which required all bars to close at noon, as well as capacity limits on indoor restaurants and businesses. These mitigation efforts were then eased in September, when Abbott expanded capacity limits from 50 percent to 75 percent.
In October, Abbott issued a new executive order allowing bars and similar establishments to reopen at 50 percent capacity.
Abbott's comments opposing shutdowns come as the state continues to see spikes in coronavirus cases, deaths and hospitalizations.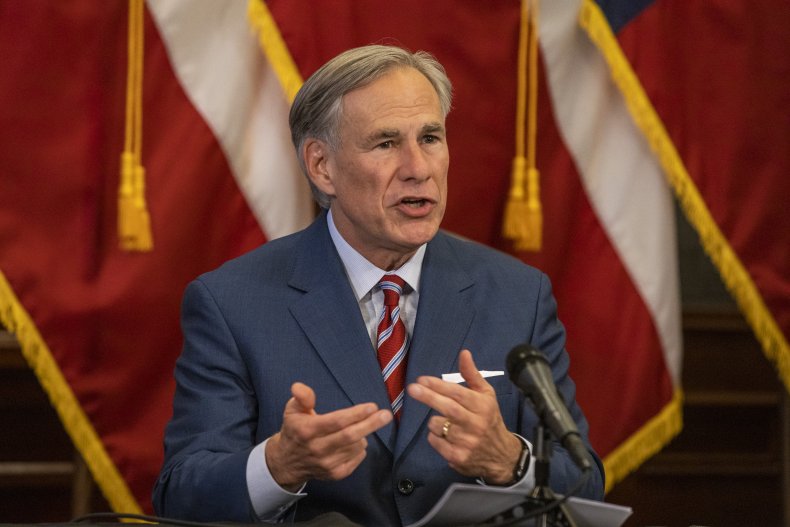 According to data from Johns Hopkins University, Texas has reported more than 100,000 new cases of the virus over the past seven days, with over 20,000 new cases on both Thursday and Wednesday. Across Texas, there are now over 1.5 million confirmed cases of the virus, as well as at least 24,931 deaths, according to Johns Hopkins University,
Texas has also seen a surge in the number of COVID-19 hospitalizations. According to the COVID Tracking Project, 9,472 patients are hospitalized in the state. As of Thursday, Texas had a seven-day average of 9,269 hospitalizations.
Newsweek was directed to the remarks Abbott made during the press conference after reaching out to his office for comment.