Texas Governor Abbott Caught on Recording Saying Reopening Will Escalate Coronavirus Spread on Same Day State Businesses Open
Texas Governor Greg Abbott has been caught on an audio recording saying that reopening the state's businesses will "actually will lead to an increase in spread" of coronavirus, adding, "The goal never has been to get COVID-19 transmission down to zero."
The audio, released by the group Progress Texas, is reportedly from a May 1 call Abbott held with state legislators to discuss reopening businesses shuttered by the coronavirus epidemic. A Progress Texas spokeswoman told The San Antonio Current that the recording was provided by a legislator's chief of staff to the Texas Democratic Party.
"How do we know reopening businesses won't result in faster spread of COVID-19? Listen, the fact of the matter is, pretty much every scientific and medical report shows that whenever you have a reopening... that it actually will lead to an increase in spread," Abbott says in the recording. "It's almost ipso facto... The goal never has been to get COVID-19 transmission down to zero."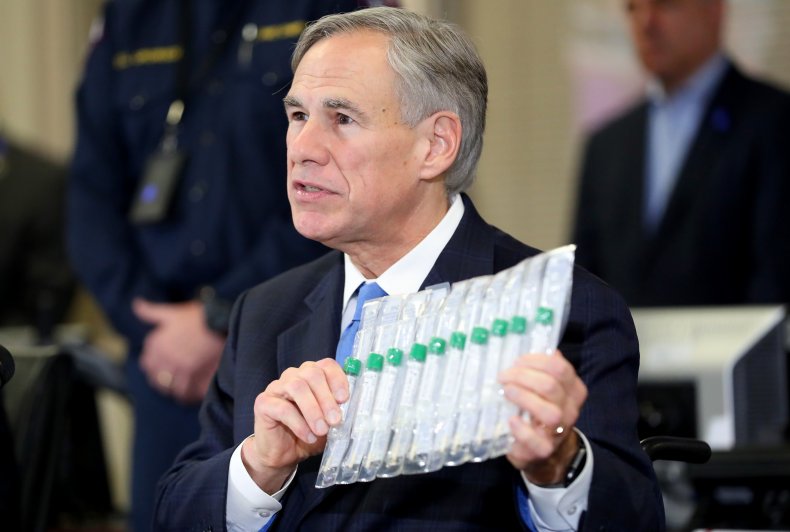 "It never can be to keep transmission down to zero because there's always going to be, with a rapidly transmittable disease like this, there will always be a level of transmission.... The goal is to reopen using strategies, that are proven strategies that can continue to contain the spread of COVID-19. These are strategies that have proven effective in the state of Texas for the past month and a half."
Abbott then says he believes businesses can reopen at a 25 percent capacity before mentioning other businesses like Home Depot and the grocery chain HEB that have used social distancing strategies, like facemasks.
"When we engage in safe distancing, when we engage in practices where people are wearing face masks, when we use best practices, we are able to open up in ways that control and constrain the spread of COVID-19," he continues.
"The main thing we look for... the primary number I've seen doctors and epidemiologists use," he adds, "is a reduction in the percentage of people who test positive. If we can continue to achieve that, that means that we have COVID-19 under the control that we need.... It's simply not scientifically or mathematically possible to get to zero in the transmission rate, whether it be for COVID, whether it be for the regular flu, whether it be for any type of infectious disease."
"Governor Abbott finally admitted that prematurely opening Texas is going to lead to more cases and more deaths," Texas Democratic Party Executive Director Manny Garcia said in a statement. "Republicans are putting our families' lives at risk so their billionaire donors can get richer."
"It is absolutely shameful Governor Abbott won't face the press, take the tough questions, and admit the deadly risks of his decisions," Garcia added. "He knew people would die after reopening Texas and now he needs to own it."
Within two days of easing state lockdown measures on May 1, Texas reported its second, third and fourth highest daily spikes in cases since the outbreak began.
On May 2, Texas reported 1,293 new cases, the second-highest count of new cases in the state. It reported 1,026 new infections on May 3, the fourth-highest number and on May 1 it reported 1,142 new cases, the third-highest figure on state record.
On Tuesday afternoon, Abbott announced that hair salons will be allowed to reopen on Friday and gyms will be allowed to reopen at 25 percent capacity on May 18.
Newsweek reached out to Governor Abbott's office for comment. This story will be updated with any response.
Update (5/5/2020, 9:45 p.m.): This article has been updated to include a statement from the Texas Democratic Party.