Texas Governor Abbott Vows State Help as 'Extremely Dangerous' Tornadoes Leave at Least 2 Dead, 10 Injured
East Texas was hit with an "extremely dangerous" tornado Wednesday night. At least 10 people have been reported injured, as well as two casualties. An exact number of those who were injured or killed in the storm have yet to be released.
The tornado, which was described by the National Weather Service as "life threatening" and "extremely dangerous" touched down at approximately 8:00 p.m. EST and ripped through Jasper and Newton counties, located north of Houston.
According to the Texas Department of Transportation, storm damage has forced the closure of Farm Road 356 in Onalaska. Electricity was out for approximately 9,000 people in the area due to power line damage.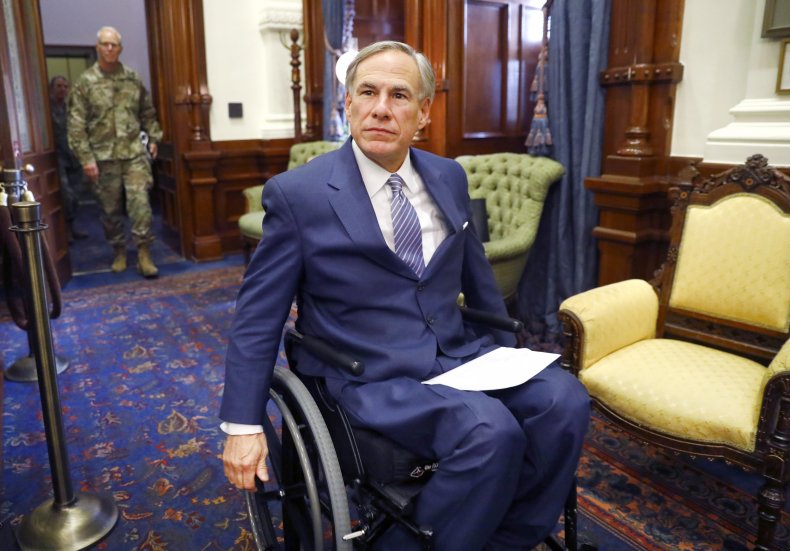 "The state has already deployed response teams and medical resources to help Texans in need and to provide assistance to these communities. Our hearts are with our fellow Texans tonight, and the state will continue to do everything it can to support those affected by this severe weather," Governor Greg Abbott said in a Wednesday statement.
Newsweek reached out to Governor Abbott's office for comment.
Tornado warnings were also issued for Southern Vernon Parish in West Central Louisiana.
Oklahoma had also been the site for tornadoes earlier on Wednesday as two people were reportedly killed in Marshall County. According to the Oklahoma Department of Emergency Management, over 7,000 people across the state were without power because of the storm. At least 12 homes in Oklahoma were damaged by the tornado.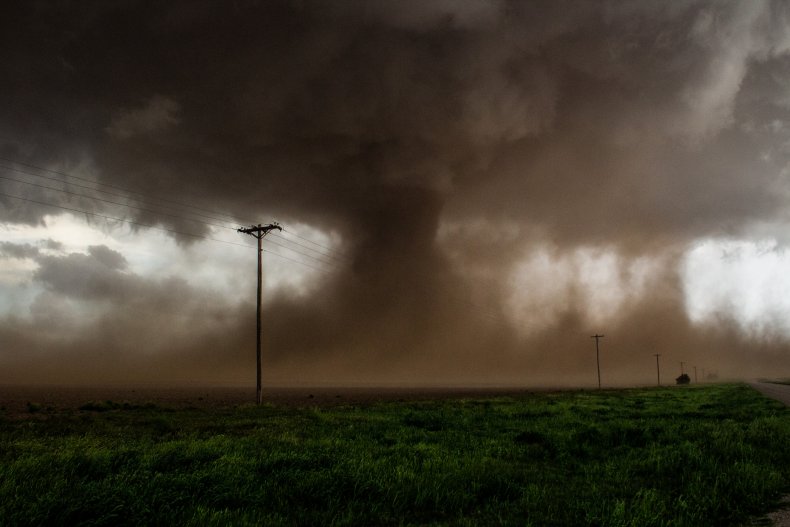 Wednesday's storms were the result of a system that moved through the Southern Plains on Tuesday before meeting warm air from the Gulf of Mexico.
According to the National Oceanic and Atmospheric Administration (NOAA), Texas is part of an area known for its susceptibility to dangerous storms known as Tornado Alley.
"Although the boundaries of Tornado Alley are debatable (depending on which criteria you use-- frequency, intensity, or events per unit area), the region from central Texas, northward to northern Iowa, and from central Kansas and Nebraska east to western Ohio is often collectively known as Tornado Alley," the NOAA's website said.
Along with Tornado Alley, some states in the southeastern U.S. make up what is known as Dixie Alley.
"As you move east from Kansas to Mississippi, Georgia, Tennessee, the population density increases rapidly," Northern Illinois University professor of meteorology Victor Gensini told CNN in March 2019.
"We also have an issue in the Southeast of more mobile homes," Gensini continued. "If you get hit in a mobile home from a tornado, you're much more likely to be killed. You just have a really unique exposure and vulnerability problem."
However, tornadoes can occur anywhere. According to the NOAA, every state in the U.S. has experienced a tornado. Most tornadoes in the world happen in this country with an average of over 1,000 tornadoes per year.