Texas Governor Greg Abbott issued a proclamation on Thursday that counties in the state are only allowed to have one drop-off location for mail-in ballots.
Mail ballots delivered in person must be dropped off to "a single early voting clerk's office location as publicly designated by the county's early voting clerk" and all other drop-off or satellite locations will be closed as of Friday.
The proclamation also requires early voting clerks to let poll watchers observe ballot delivery as an election security measure.
"As we work to preserve Texans' ability to vote during the COVID-19 pandemic, we must take extra care to strengthen ballot security protocols throughout the state," Abbott said. "These enhanced security protocols will ensure greater transparency and will help stop attempts at illegal voting."
The announcement means large Democratic counties in Texas—including Harris County and Travis County—that added sites to increase voter convenience will have to remove additional drop boxes. Harris County currently has 12 and Travis County has four.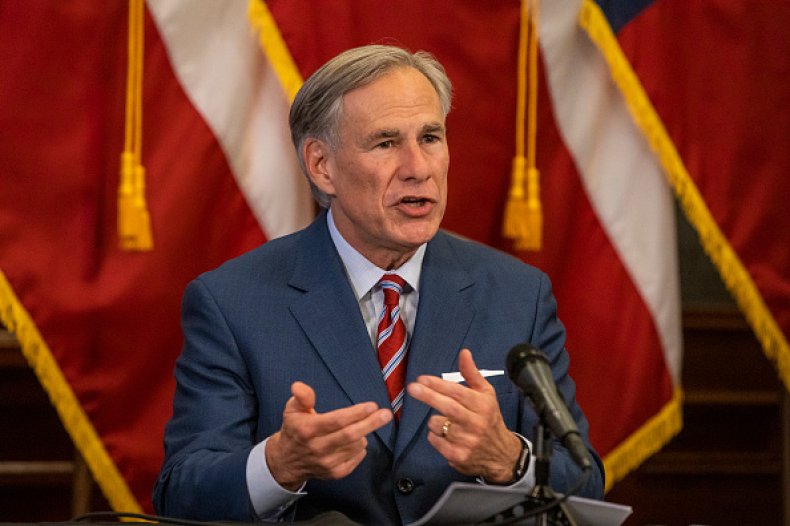 The move could make it more difficult for voters in these larger counties to cast their ballots ahead of Election Day.
The Texas Democratic Party called the proclamation a "blatant voter suppression tactic."
"Republicans are on the verge of losing, so Governor Abbott is trying to adjust the rules last minute," party chair Gilberto Hinojosa said in a statement.
"Courts all over the country, including the Fifth Circuit yesterday, have held that it is too late to change election rules, but our failed Republican leadership will try anyway. Make no mistake, Democracy itself is on the ballot. Every Texan must get out and vote these cowards out!" Hinojosa added.
This is the latest amendment to the state's early voting laws.
Last week, six GOP state lawmakers and Texas Republican Party Chair Allen West filed a lawsuit against Abbott in an attempt to strike down the state's extended early voting.
In response to the coronavirus pandemic, Abbott added six days to the early voting period back in July, moving the start date up to October 13 for voters casting a mail-in ballot. The governor had also extended early voting for the July primary runoffs.
The plaintiffs argued that Abbott is defying an election law that requires early voting to start on the 17th day before the election.
This is not the first time Abbott has faced backlash from Texas Republicans over his handling of the outbreak. Many criticized the governor's orders as being unlawful after he issued a statewide mask mandate and reversed the state's reopening plan due to a surge in COVID-19 cases during the summer.
Newsweek reached out to Abbott for comment, but did not hear back before publication.