Texas Governor Says Biden 'Just Killed' Family Paychecks With Oil Comments
Texas Governor Greg Abbott said Joe Biden had "killed" the paychecks of families working in the oil industry after the Democratic nominee said he would "transition" away from the fossil fuel if he were elected president.
Gov. Abbott claimed the former vice president's pledge marked a "transition away" from Texas—a state where he is running neck-and-neck with President Donald Trump, according to state polls.
Texas is the largest producer of crude oil and natural gas in the U.S., making the energy industry a major employer in the Lone Star State. According to the U.S. Energy Information Administration, 41 percent of U.S. crude oil production took place in Texas last year.
Posting on social media after Thursday night's presidential debate, Abbott said: "Biden wants to 'transition' away from the oil industry. He just killed paycheck[s] earned by hardworking families in Texas. Joe just wants to transition away from Texas. Remember that on election day."
Newsweek has contacted the Biden campaign for comment. This article will be updated with any response.
The Texas Democratic Party spokesperson Abhi Rahman said: "Texas energy has failed under Donald Trump. Greg Abbott should be more focused on his own record on unemployment." He added that the unemployment rate in the Lone Star State was the result of the president's and the governor's "failed" responses to the COVID-19 pandemic, and not Biden's planned energy policies.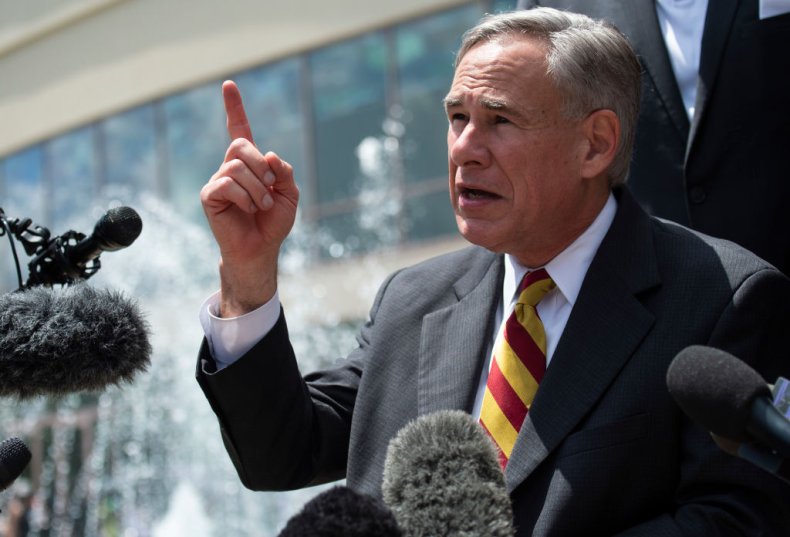 Appearing at the head-to-head in Nashville, Tennessee, Biden was pushed on whether he planned to "close down" the oil industry.
"I would transition from the oil industry, yes," Biden said. "I would transition." After Trump said his remarks were a "big statement," the former vice president replied: "It is a big statement."
When the debate moderator Kristen Welker intervened to ask why he would transition away from the oil industry, Biden said the sector was a significant polluter.
"It has to be replaced by renewable energy over time, and I'd stop giving the oil industry federal subsidies," he added. "He won't give federal subsidies to solar and wind, why are we giving it to the oil industry?"
The former vice president's remarks sparked a backlash from several conservatives who sought to capitalize on the threat to oil jobs with a little less than two weeks to go until polling day.
U.S. Rep. Ken Buck (Colo.-R) argued that Biden would "attack" the state's oil and gas sector against the wishes of voters and cost "over 200,000" local jobs.
"Biden is going to end USA energy independence & destroy the remaining blue collar jobs in this country so we can go back to being dependent on foreign oil and embroiled in endless Mideast wars," Senator Josh Hawley of Missouri tweeted. "Great plan."
According to a pool report, Biden was quizzed about his remarks at Nashville airport in the wake of the debate and reassured reporters that he did not have plans to cut fossil fuels in the short term.
"Eventually we're going to have to go to oil, but we're not getting rid of fossil fuels," the Democratic nominee said. "We're getting rid of the subsidies for fossil fuels, but we're not getting rid of fossil fuels for a long time."
Update 10:45 a.m. ET: This article was updated with comment from the Texas Democratic Party spokesperson Abhi Rahman.