Former Texas state Senator Don Huffines attacked Governor Greg Abbott's record and called the incumbent a "RINO" at the Conservative Political Action Conference in Dallas on Saturday.
Huffines, who's challenging Abbott in the 2022 Republican gubernatorial primary, seized on his rival's absence to convince the party's more conservative voters that he would be the candidate who can better stand up to Democrats.
"Where is Greg Abbott?" Huffines said. "Why isn't he here? He's not here because he doesn't want to face you."
Renae Eze, a spokesperson for Abbott, defended the governor's absence from the event, saying he's "focused on working with the Legislature to ensure a successful special session," according to The Dallas Morning News.
Abbott hosted a border security briefing with sheriffs along the southern border at the state Capitol on Saturday afternoon amid his push to build a wall. The governor recently met with former President Donald Trump, who endorsed his re-election campaign for a third term, to discuss securing the state's border with Mexico.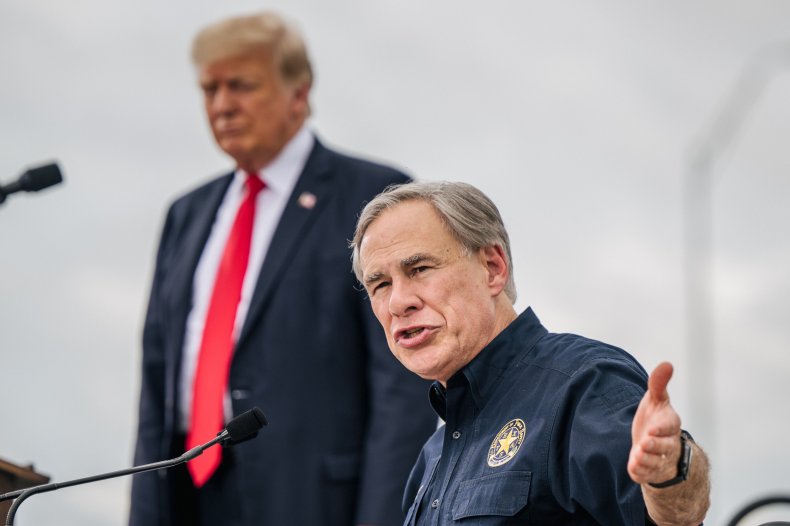 Still, Huffines accused him of failing to respond adequately to an increase in border crossings. "Greg Abbott's been governor for six years. He could have secured the border six years ago or six months ago," he said. "Why isn't the border secure?"
Huffines continued: "We don't have a Donald Trump as governor, we don't have a Ron DeSantis as governor, we don't have a William B. Travis as governor. Unfortunately we've got a career politician that's a political windsock, a RINO."
Trump-endorsed candidates are rarely called RINOs—"Republicans In Name Only"—a pejorative that the ex-president uses frequently against his political rivals within the party. Huffines, who's running on the Trumpian "Texas First" slogan, is seeking to capitalize on frustrations among grassroots conservatives over Abbott's early decision to lock down the state's economy last year due to the pandemic.
"He put 3 million Texans on unemployment and dependent on the government in one day. He closed our churches on the holiest week of the year, Easter," Huffines told CPAC. "Under my administration Texas will never go blue."
Abbott lifted the mask mandate in Texas and increased business capacity to 100 percent in March, a move criticized by President Joe Biden as "Neanderthal thinking."
Former GOP congressman Allen West and political commentator Chad Prather have also launched challenges to Abbott, but the incumbent governor remains in good shape despite the mounting complications to his campaign, with a staggering $55 million in cash-on-hand and solid approval ratings among Republican voters.
Newsweek reached out to Abbott's office for further comment. This story will be updated with any response.