Texas Governor Closes Bars as Coronavirus Cases Spike
Texas Governor Greg Abbott is clamping down on bars and restaurants in an effort to combat the spike in new coronavirus cases the state is seeing.
On Friday, Abbott signed an executive order requiring bars to cease in-person service at noon, although they could continue doing takeout and delivery. Beginning on Monday, restaurants have to reduce dine-in services to 50 percent capacity, and outdoor gatherings of more than 100 people must be approved by local governments.
Abbott said it was clear the rise in cases was largely being driven by specific activities, including people congregating in bars. Restricting people from congregating in large numbers is essential to the state's mission to swiftly contain the outbreak, the governor noted.
"We want this to be as limited in duration as possible. However, we can only slow the spread if everyone in Texas does their part," Abbott said. I know that our collective action can lead to a reduction in the spread of COVID-19 because we have done it before, and we will do it again."
Newsweek reached out to the governor for further comment but did not hear back before publication.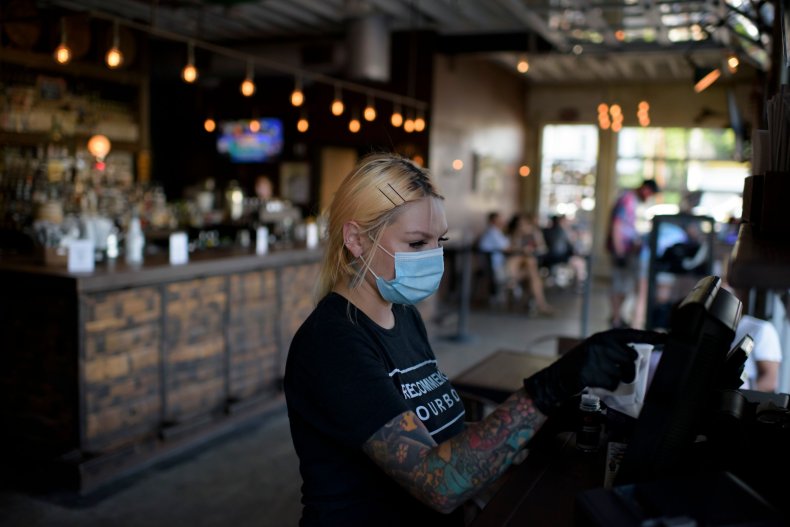 Texas started to reopen in May, and increases in new cases remained relatively steady until June 16, when they reached a historic high. New cases have continued to rise and on Thursday reached a record high of 5,996. Thursday was also the 14th straight day that the state saw a record number of hospitalizations. The state's positivity rate, the ratio of positive cases to the number of coronavirus tests conducted, is also on the way up.
On Wednesday, the Texas Department of Health and Human Services reported the positivity rate was 11.76 percent. Abbott previously said that he has made the public aware that if the positivity rate rose about 10 percent, Texas would take further action to mitigate the spread of the virus.
Along with restrictions on bars and restaurants, Abbott banned commercial rafting and tubing services, and on Thursday the governor suspended elective surgeries. He instructed all hospitals in Bexar, Dallas, Harris and Travis counties to postpone all surgeries and procedures that aren't "immediately, medically necessary" to preserve a patient's life or correct a serious medical condition.
All four counties saw significant increases in hospitalizations. The purpose of postponing elective surgeries is to ensure that hospitals have enough beds and resources to care for patients with COVID-19, the disease caused by the virus.
Abbott also put a pause on Texas entering any more reopening phases. He said the state's goal was to slow the spread of the virus while allowing Texans to "continue earning a paycheck to support their families."
"The last thing we want to do as a state is go backwards and close down businesses," he said Thursday. "This temporary pause will help our state corral the spread until we can safely enter the next phase of opening our state for business."