In a tweet Wednesday evening, Texas Governor Greg Abbott suggested that citizens and restaurant owners of Austin disregard the city's dine-in curfews.
The move came after Austin Mayor Steve Adler and Travis County Judge Andy Brown announced both indoor and outdoor dining would be restricted from 10:30 PM to 6:00 AM on December 31 through Sunday morning. Adler pushed for the curfew to curb the increase of COVID-19 cases in the area.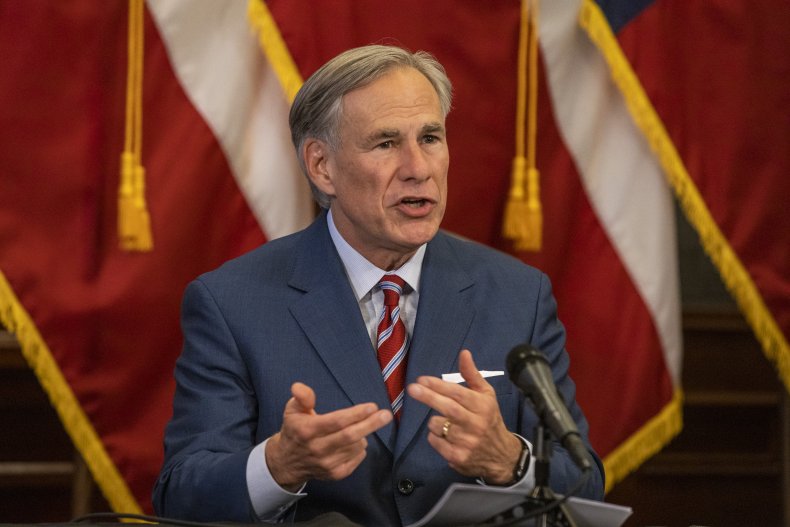 Abbott opposed the decision. He took to Twitter on the evening of New Year's Eve and wrote: "To Texas restaurants. A formal statement. 'The Governor's statewide executive order allows food establishments to be open for in-person dining on New Years Eve as authorized by the Texas Alcoholic Beverage Commission. They should remain open. Happy New Year!' Cheers!"
Adler, a Democrat, responded to the Republican governor's tweet with his own statement on social media. He wrote that people should "celebrate at home, order out and tip generously." (The curfew allows restaurants to offer drive-thru, curbside pick-up, take out, and delivery services.)
"This is not a drill - Austin is experiencing uncontrolled spread of the virus. There's no better way to bring in the new year than in solidarity with our neighbors," Adler said in his statement.
Adler and Travis County Judge Andy Brown announced the dining restrictions on December 29, which prompted Texas Attorney General Ken Paxton to sue Austin and Travis County (where Austin is located) to stop the curfew. However, Amy Clark Meachum, the presiding judge of the 201st District Court, upheld the city's restaurant plans for New Year's weekend on Thursday. Then, later on Thursday night, the Texas Third Court of Appeals denied an appeal from Paxton.
The city and the county attorneys called on Mark Escott, an interim health authority and public health medical director for the City of Austin and Travis County, as a witness before Judge Clark Meachum. The Texas Tribune reported Escott saying: "The risk is not really theoretical anymore, because we saw what happened in New Orleans after Mardi Gras, we saw what happened in Boston and other places for St. Patrick's Day. Those kinds of activities surrounding special events can really create uncontrolled surge and we want to avoid that here."
Escott also said that since December 1, COVID-19 hospital admissions are up 127 percent in Austin and Travis County, while ICU bed occupancy has increased 94 percent there.
The Texas Restaurant Association asked Austin businesses, via Twitter, to follow Abbott's guidance and defy the curfew. The organization argued that closing indoor dining during the holidays would move people's celebrations to unregulated spaces that are in more danger of spreading COVID-19.
Texas restaurants are currently allowed to operate with occupancy limitations indoors. Attorneys for Austin and Travis County argued that the curfew doesn't break any state law or limits established by the governor. They said the dining ban doesn't technically make businesses close, and patrons are not forced to leave at 10:30 PM; rather, they can't be served food inside.
Newsweek reached out to the offices for Abbott and Adler for further comment, but didn't hear back at the time of publication.