Texas Governor Signs Eight Executive Orders to 'Better Protect' Residents From Mass Shootings, None of Them Deal With Guns
Texas Governor Greg Abbott has signed eight executive orders to "better protect" residents after the recent mass shootings in Odessa and El Paso that killed a total of 29 people, but none of them deal with guns.
"Texas must achieve several objectives to better protect our communities and our residents from mass shootings," Abbott said in a statement on Thursday. "I will continue to work expeditiously with the legislature on laws to keep guns out of the hands of dangerous criminals, while safeguarding the 2nd Amendment rights of law-abiding Texans."
The state experienced two mass shootings in less than a month, which killed 29 people and injured dozens more. The first attack happened at a Walmart in El Paso on August 3. The suspected gunman told police he was targeting Mexicans and authorities are investigating the shooting as a potential hate crime.
The second mass shooting took place during a routine traffic stop near Odessa on August 21. Seven people were killed in the rampage and the gunman died during a shootout with police. The suspected shooter had failed a previous background check and purchased his weapon in a private sale.
Abbott's executive orders make no mention of guns. Instead, they focus on how law enforcement officials respond to reports of suspicious activity. Many pertain to the Texas Suspicious Activity Reporting Network, an online database where people can report someone if they believe them to be a danger to themselves or others.
In the press release, the governor's office also noted that the mother of the El Paso shooter had previously expressed concerns about her son to law enforcement and that the Odessa shooter had called local and federal authorities before the rampage.
"Today's directives by the Governor will help close the information gaps when suspicion of a potential mass shooter arises. While these executive orders will enhance law enforcement's ability to respond and prevent these shootings, legislative solutions are still needed," the statement read.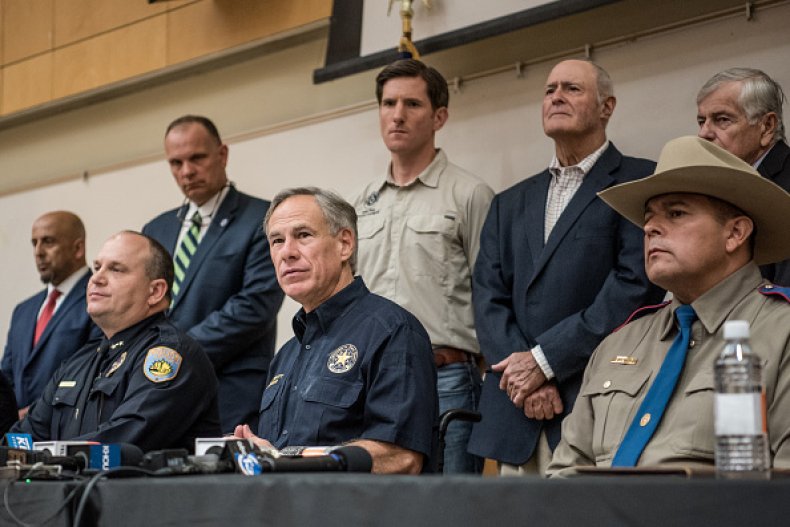 In Thursday's announcement, the Republican governor added that "legislative solutions are still needed." But state lawmakers are not scheduled to reconvene until 2021 and Abbott has, so far, rejected calls to hold a special session to deal with gun violence.
On Wednesday, Abbott tweeted that state legislators are working on laws to prevent gun violence and that he would announce "legislative considerations" sometime next week. He also warned that "legislators can be part of the process or part of the problem."
Texas Democrats held a press conference on Wednesday calling for a special session, saying that 2021 is too long to wait for action on gun violence. State Representative Donna Howard told reporters that "we already know there are actions that we could take that can make a difference right now."
Texas Democrats want to close background check loopholes and require stolen guns be reported to law enforcement. They also want to ban the sale of high-capacity magazines and limit open carry of semi-automatic long guns.
But just hours after the Odessa shooting, new firearm laws took hold in Texas that loosen restrictions as to where and when weapons can be carried. The new laws ease restrictions on gun ownership and the use of them in schools, foster homes, apartments buildings and churches.
When asked if the new laws show "that Texas went in the wrong direction" on gun control, Abbott defended the legislation and even suggested that it was "enacted to make our communities safer."