Governor Greg Abbott issued an executive order on Monday banning vaccine mandates by any company or person in the state of Texas.
The order states that "no entity in Texas can compel receipt of a COVID-19 vaccination by any individual, including an employee or consumer, who objects to such vaccination for any reason of personal conscience, based on a religious belief, or for medical reasons, including prior recovery from COVID-19."
Abbott sent a message to the Chief Clerk of the House and Secretary of the Senate, adding the item to the Third Special Session agenda. The order will be rescinded upon the passage of legislation.
"The COVID-19 vaccine is safe, effective, and our best defense against the virus, but should remain voluntary and never forced," said Abbott.
The governor's order was in response to President Joe Biden's federal mandate issued last month requiring companies with 100 employees or more to ensure everyone is vaccinated or undergoes regular testing. Abbott called the order federal overreach.
In his executive order, Abbott wrote that the COVID-19 vaccine is "strongly encouraged" for those eligible but that it must always be voluntary for Texans.
"The Biden administration is now bullying many private entities into imposing COVID-19 vaccine mandates, causing workforce disruptions that threaten Texas's continued recovery from the COVID-19 disaster," the order read. "Countless Texans fear losing their livelihoods because they object to receiving a COVID-19 vaccine."
Abbott's latest executive order comes 10 days after a Texas school district's vaccine mandate survived a legal attack by Attorney General Ken Paxton.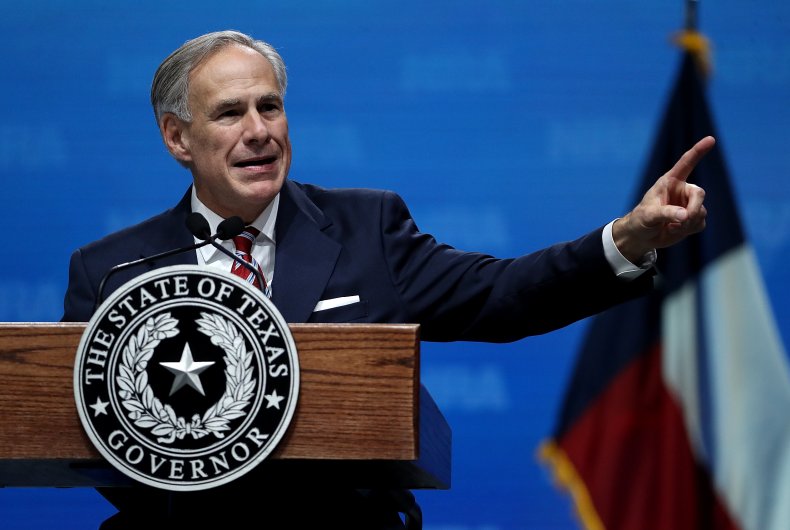 Paxton attempted to secure a temporary injunction that would prohibit the San Antonio Independent School District (SAISD) from enforcing vaccine mandates, but 45th Civil District Court Judge Mary Lou Alvarez denied the motion earlier this month.
San Antonio ISD was the first Texas school district to mandate the vaccine for staff. Former superintendent Pedro Martinez justified the order, citing the U.S. Equal Employment Opportunity Commission which states employers can make COVID-19 vaccinations mandatory.
But under Abbott's new executive order, any entity, including private businesses, is prohibited from imposing vaccine requirements.
"We are reviewing the new executive order and consulting with our legal counsel and Board of Trustees to determine how the district will proceed with its employee vaccine mandate," Laura Short, a spokesperson for the SAISD, told Newsweek.
Abbott initially banned vaccine passports and mask requirements in school in April. Shortly after the school announced its mandate in August, Abbott issued another executive order.
The second order bans government agencies and businesses that partner with the state from requiring COVID-19 vaccines, regardless of their FDA approval status.
Attorneys for the district argue that the state hasn't sufficiently proven that vaccine mandates are beyond the school's power. They added that under the Texas Disaster Act of 1975, which gives power to the governor during emergencies like the pandemic, Abbott's second executive order has no authority.
Alvarez said that the state made "eloquent, passionate arguments" but did not provide the necessary evidence for her to grant the temporary injunction.
The state's legal team said they plan to appeal the ruling with a trial set for January 19, 2022.
Updated 10/12/2021, 4:11 p.m. ET: This article has been updated to include comments from the SAISD.