The Democratic chairs of three congressional committees have said they are investigating whether Texas Gov. Greg Abbott has interfered with "free, fair and safe federal elections" by limiting the number of drop-off locations for mail ballots in the state to one per county.
In a joint letter on Tuesday, House Majority Whip James Clyburn (D-SC) and Reps. Zoe Lofgren (D-CA) and Carolyn Maloney (D-NY) urged Abbott to rescind the order requiring Texas counties to close all but one ballot drop-off location, and said the move "appears to be a last-ditch effort to suppress Texans' ability to vote."
Clyburn chairs the Select Subcommittee on the Coronavirus Crisis, while Lofgren chairs the Committee on House Administration. Maloney leads the Committee on Oversight and Reform.
They said they are investigating Abbott's actions that "may interfere with the administration of free, fair, and safe federal elections in Texas during the coronavirus pandemic."
The chairs added that the restrictions on casting early vote-by-mail ballots "flies in the face of CDC guidance and the concerns of county election officials seeking to keep voters and election workers safe.
"By closing drop-off locations, you are forcing thousands of voters to congregate at a single county clerk's office to deliver mail-in ballots."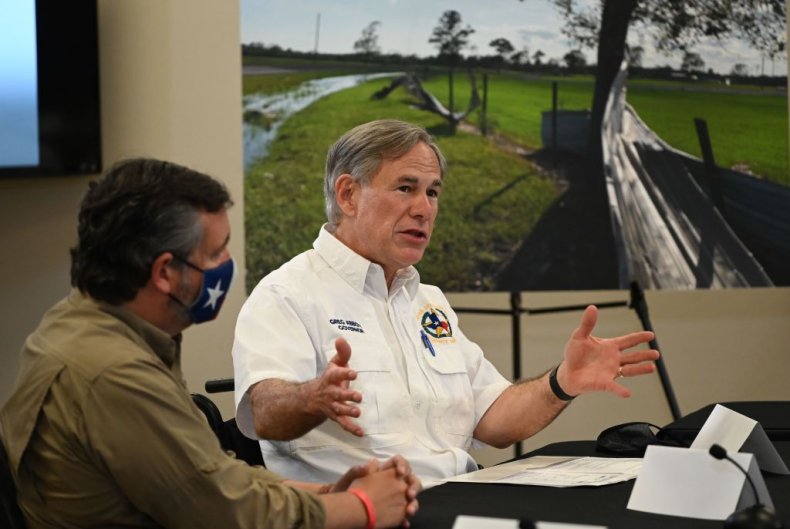 Abbott's order, which took effect on Friday, assigns just one drop-off location—an early voting clerk's office—in each of Texas' 254 counties and allows poll watchers to observe ballot deliveries. The order has shut numerous sites in some of the state's biggest cities and Democratic strongholds.
In Harris County, which has 4.7 million people and encompasses the city of Houston, 12 drop-off sites have been consolidated into one. Videos posted on social media showed long lines of cars waiting to drop off ballots at that location.
The chairs asked Abbott to provide documents regarding his decision and to confirm if he would rescind the order by October 13.
Abbott's office have been contacted for comment about the letter.
The Republican governor said in a statement last week that the measures "will ensure greater transparency and will help stop attempts at illegal voting," echoing President Donald Trump's calls for for his supporters to keep a close watch on mail-in voting.
The chairs dismissed Abbott's claim that collecting mail ballots at multiple locations would stop illegal voting, saying "vote-by-mail ballot fraud is essentially non-existent."
Democrats have blasted it as a "blatant" way to suppress votes.
In an interview with MSNBC, former Texas Rep. Beto O'Rourke, who had sought the 2020 Democratic nomination for president, called it a "sign of desperation."
"They're throwing out all the stops," he added and suggested the move was an indication of how close races in the state House of Representatives, Congress and the presidential election are.
Polls show races in the the country's biggest red state are tight this year—and Democrats could take the Texas House of Representatives for the first time in 20 years, according to the Associated Press.
But in another blow for Democrats on Wednesday, the Texas Supreme Court ruled that 2 million voters in Houston cannot receive unsolicited mail ballot applications from local elections officials.
Texas isn't allowing widespread mail-in voting. To be eligible to vote early by mail in the state, voters must be either aged 65 or more; away from their county of residence on Election Day and during the early voting period; sick or disabled; or confined in jail but otherwise eligible to vote.
Clyburn, Lofgren and Maloney said Abbott's order limiting the number of ballot drop-off locations is putting elderly and disabled people at risk.
"Your proclamation puts the elderly and disabled, already at high risk from the coronavirus, in harm's way as they contend with fewer locations and quite likely, longer lines," the chairs wrote.
"Counties in Texas are as large as 6,000 square miles, so your proclamation could force voters to travel several hours to deliver their ballots."
The burden of Abbott's order "falls most heavily on voters of color," they added, as they are over-represented in the largest Texas counties where numerous sites have been shuttered.
"At this late hour, the restrictions you have imposed are fundamentally unfair to voters, simultaneously restricting their ability to cast ballots and increasing the risk of voters and poll workers becoming infected with the coronavirus," the chairs concluded in the letter.
They added: "Your action appears to be a last-ditch effort to suppress Texans' ability to vote."