Texas Governor Joins 8 Others in Not Requesting Military Presence to Contain Protesters
On Tuesday, Texas Governor Greg Abbott joined eight other states in not requesting military assistance from the federal government to contain protests for George Floyd's death.
"We will not be asking the United States military to come into the state of Texas because we know the Texans can take care of Texas," Abbott said at a news conference at Dallas City Hall.
Instead of requesting military presence, Abbott added that "Texas National Guard are here for Texans and that's what they'll be used for."
Newsweek reached out to Abbott's office for further comment but did not receive a response in time for publication.
Abbott's comments shortly after President Donald Trump stated that he will deploy the country's military in states that could not contain the protests.
"I am mobilizing all available federal resources, civilian and military, to stop the rioting and looting, to end the destruction and arson and to protect the rights of law-abiding Americans, including your Second Amendment rights," Trump said during a recent press conference. "If a city or state refuses to take the actions necessary to defend the life and property of their residents, then I will deploy the United States military and quickly solve the problem for them."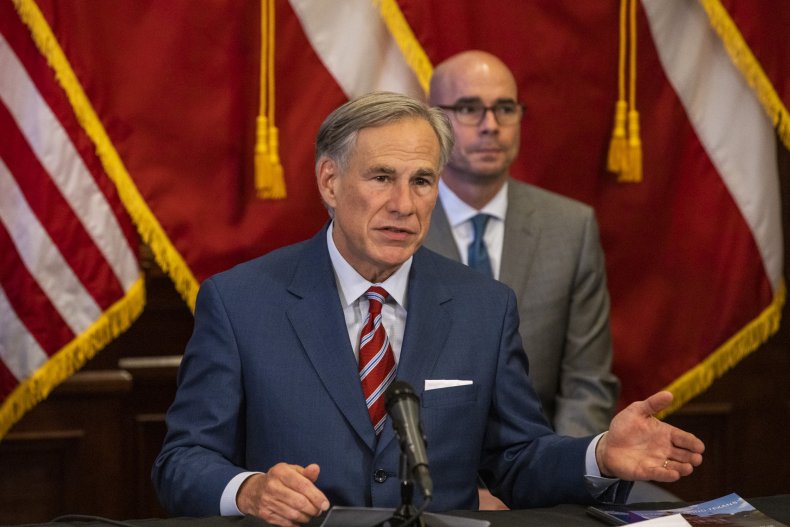 In addition to Abbott, several other states, including New York, Massachusetts, Oregon, Michigan, Illinois, Washington, Nevada and California have also responded to Trump's comments, suggesting that they won't need military presence to contain the protests.
"I say thank you but no thank you," said New York Governor Andrew Cuomo in response to Trump's recent comments.
On Monday, Oregon Governor Kate Brown made comments similar to Abbott's, suggesting that the state did not need military help.
"You don't defuse violence by putting soldiers on the streets," Brown said. "Trump wants governors to deploy the National Guard as a show of force to intimidate the public. I want to ensure that the public can safely raise their voices in this much-needed call for reform."
In Illinois, Governor J.B. Pritzker suggested that he didn't believe the federal government could send in military personnel to states.
"I reject the notion that the federal government can send troops into the state of Illinois," Pritzker said on CNN.
Similar decisions and comments were made by governors in Massachusetts, Michigan, Washington, Nevada and California. Michigan Governor Gretchen Whitmer called Trump's comments "dangerous" and said they "should be gravely concerning to all Americans, because they send a clear signal that this administration is determined to sow the seeds of hatred and division." Washington Governor Jay Inslee called Trump's announcement a "reckless fit."
In Nevada, Governor Steve Sisolak stated that any speculations that the state's National Guard can't contain the protests is "misinformed," adding that, "As the commander In chief of the Nevada National Guard, I can state, categorically, that they have done their duty to protect all Nevadans and will continue to do so."