Texas Governor Rick Perry Assuages Fears over Ebola in Dallas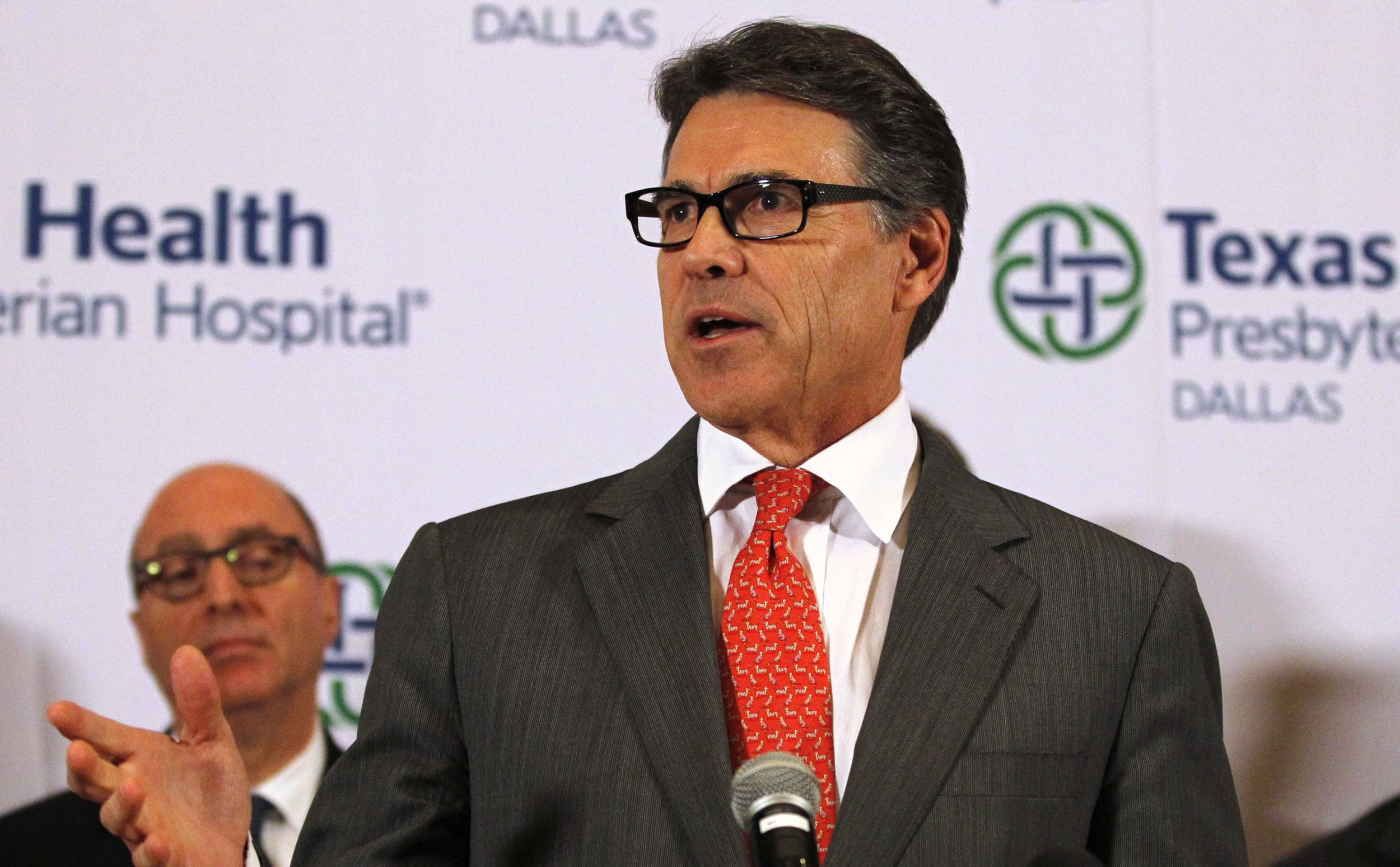 Texas Governor Rick Perry sought to allay fears about a possible outbreak of the Ebola virus at a press conference Wednesday. Perry spoke from the Texas Health Presbyterian Hospital in Dallas, where on Tuesday hospital officials announced that a patient had tested positive for the disease—the first diagnosed case of Ebola in the United States. Perry said hospital staff, along with local, state and federal officials, are taking "every step available and necessary" to care for the patient and "to assure the safety and welfare of our citizens."
"Few places in the world are better equipped" to deal with the virus, Perry said, noting that Texas is one of only 13 states certified by the U.S. Centers for Disease Control and Prevention (CDC) to conduct diagnostic Ebola testing. Perry said this particular case was "serious," but told the public to "rest assured—our system is working as it should."
Dr. David Lakey, the commissioner of the Texas Department of State Health Services, said Texas has been preparing for the arrival of the virus since "the outbreak of Ebola in West Africa." Lakey said the hospital has dedicated "a whole ward" and "a whole team" to the care of the infected individual. "This is not West Africa," Lakey said. The chances of the disease being spread here, he said, are "very, very, very small." However, at least two West African nations, Nigeria and Senegal, appear to have contained outbreaks of Ebola, according to the CDC.
The patient was admitted to Texas Health Presbyterian on September 26, but was misdiagnosed and sent home with antibiotics. On September 28, he returned, complaining of similar symptoms as before. He was tested for Ebola and placed in intensive care. Dr. Mark Lester, Southeast Zone clinical leader for Texas Health Resources, said a checklist for screening for Ebola was in place when the patient entered to the hospital on September 26, and that he was asked about his recent travels, including to Liberia, where the disease has killed nearly 2,000, according to the CDC. "Regretfully, that information was not fully communicated" to the rest of the patient's care team, Lester said. Lester described the patient's condition as "serious but stable."
Officials confirmed the CDC is still attempting to locate any and all individuals the patient came into contact with after leaving the hospital. Dr. Christopher Perkins of the Dallas Department of Health and Human Services said there are five members of the patient's "immediate household" with whom he has been in contact, and that there may be between 12 and 18 additional contacts.
Perry added, "Some school-age children have been identified as having had contact with the patient." Those children, he said, "are now being monitored at home for signs of the disease."
Lakey said the hospital, as well as local, state, and federal health officials, will be in "daily contact" with the patient's family.