Texas Governor Suspends All In-Person Visitation in Jails
Governor Greg Abbott halted personal visitation in all county and municipal jails across Texas on Friday.
Abbott's Friday executive order is designed to prevent the community spread of coronavirus throughout the Texas jail population. The order does not apply to attorneys meeting with prisoners, clergy or religious leaders. Abbott's original state of emergency declaration placed restrictions on jail visits. Friday's executive orders serve as an expansion of the original order and have no set end date.
"Jails have shown to be highly susceptible to COVID-19 surges which is why we are focused on containing any potential hot spots and preventing spread both within jails and the community," Abbott said in a Friday statement. "I encourage jails to utilize virtual visitation strategies to allow for visitations in a way that protects both staff and the inmate population."
Newsweek reached out to the Sheriff's Department in Travis County, Texas for comment. This story will be updated with any response.
Testing for coronavirus has been expanded through the Texas jail and prison systems. As of Wednesday, 38,203 prisoners and 11,836 employees of the Texas Department of Criminal Justice (TDCJ) had received oral swab testing. Results from some of those tests are still pending, but information from the TDCJ indicates that 2,214 prisoners and 742 staff members tested positive for the virus.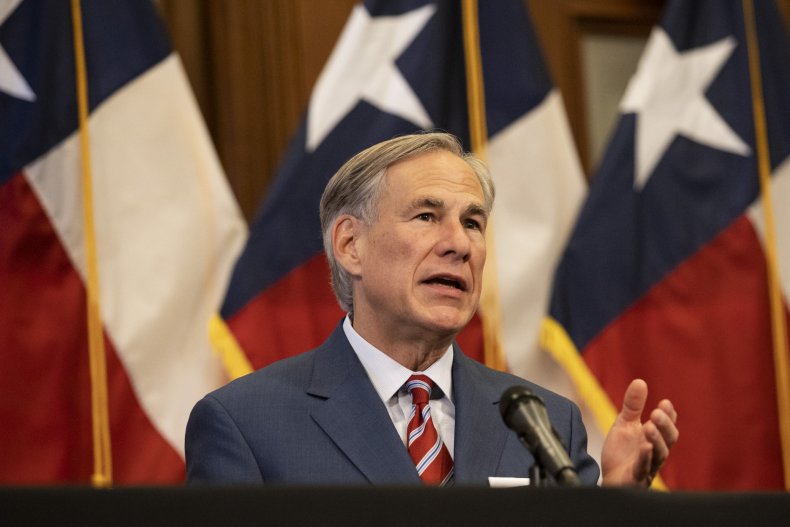 Because of the confined conditions, jails and prisons have become hot zones for the spread of the coronavirus. Some states have released prisoners deemed non-violent or parole violators in an attempt to reduce the spread of the virus throughout the prison population.
In March, Governor Abbott signed an executive order prohibiting inmates who had been jailed for violent crimes from being released without paying bail.
"I've heard from law enforcement officials as well as citizens alike who've raised concerns about releases that have already taken place or anticipated releases that could take place," Abbott said at a March news briefing. "We want to reduce and contain COVID-19 in jails and in prisons for the benefit of both the inmates and the law enforcement officers of those facilities."
Abbott announced the enactment of the second phase of Texas' reopening plan on Wednesday, which allowed more businesses to open. Restaurants are allowed to operate at 50 percent capacity. Summer school is an option for public schools with proper social distancing protocols in place. Classes may begin as quickly as the beginning of June.
Texas bars can open Friday at 25 percent capacity, but table seating is limited to six individuals. Dancing is not recommended.
Recent information from the Texas Department of State Health Services indicates 53,449 total positive cases of the virus reported in the state with 22,068 of those cases estimated to be active. While 1,480 individuals have died from the virus in Texas, 32,227 people are estimated to have recovered.