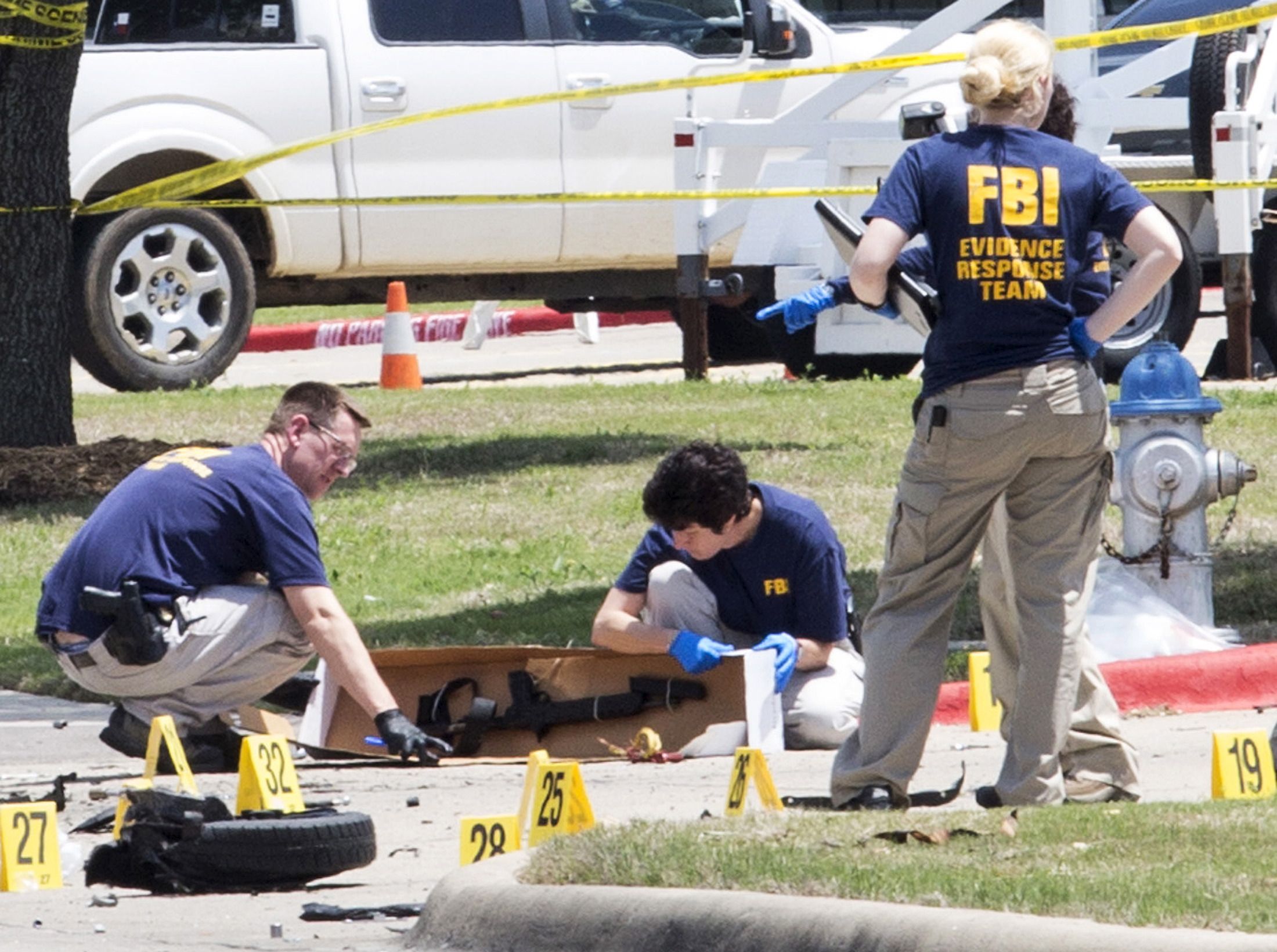 One of the gunmen involved in the Sunday shooting outside an event center hosting a Muslim Prophet Muhammad cartoon contest reportedly posted the hashtag #TexasAttack to Twitter minutes before the incident, several media outlets reported Wednesday.
A final tweet posted to an account linked to one of the gunmen said, "May Allah accept us as mujahideen," a word for holy warriors. Federal authorities confirmed with the Associated Press on Wednesday that Elton Simpson owned the account. Simpson and Nadir Soofi, who both lived in the same apartment complex in Phoenix, opened fire Sunday outside the Curtis Culwell Center in Garland.
According to authorities, the two men, wearing bulletproof vests, allegedly drove to the center in a dark-colored Sedan on Sunday night and opened fire with assault rifles, wounding a security officer in the leg. A local law enforcement officer quickly returned fire, killing the two men next to their vehicle.
Several tweets including the ominous hashtag #TexasAttack were sent from the account, named Shariah Is Life, about 25 minutes before the incident, according to The Guardian. The account has since been suspended. Earlier this week, The New York Times reported that Simpson exchanged extremist views on Twitter for weeks leading up to the attack.
The Islamic State, or ISIS, issued a statement on Tuesday taking responsibility for the shooting. It remains unclear whether ISIS actually helped Simpson or Soofi plan the attack, and federal authorities are investigating whether the plot could be linked to the group. Some counterterrorism experts are casting doubts on the role ISIS claims to have played.
The AP also reported Wednesday that the Department of Homeland Security and the FBI had issued a joint intelligence bulletin on April 20 to local law enforcement warning that the Garland event was a possible target for a terrorist attack. An extra $10,000 was spent for additional on-site security during the contest, including a SWAT team and bomb squad.
The profile picture on the suspended Twitter account includes an image of the late American Anwar al-Awlaki, the alleged Al-Qaeda recruiter who was killed in 2011 by a U.S. drone strike in Yemen.