Texas Passed Bill Allowing Residents to Carry Guns Without Permits After Natural Disasters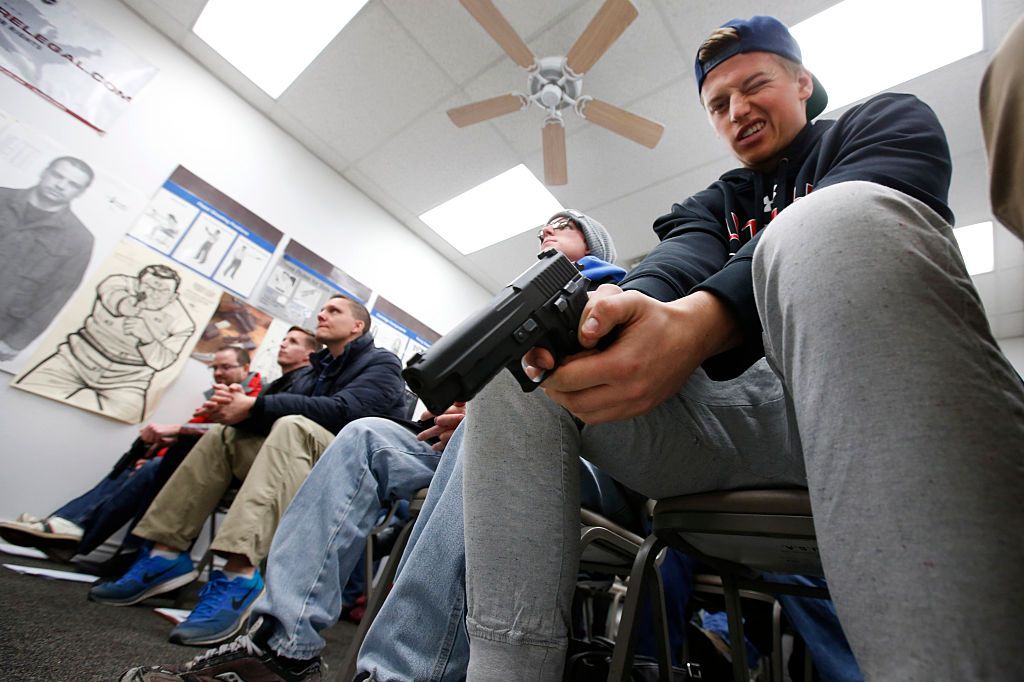 A new bill backed by the National Rifle Association and passed by the Texas Legislature will allow any resident who can legally own a gun to carry an open or concealed weapon for a week after a natural disaster.
To currently bring a handgun outside of their home, Texans must have a license to carry which requires paying a fee, taking a course and passing both a shooting test and background check. But if Republican governor Greg Abbott signs this latest bill, none of that will be required in the wake of a flood or other disastrous natural events.
Republican State Senator Joan Huffman, just one of three Republicans to vote against the bill, criticized the new rule in a conversation with Dallas News. "It's really, really poor public policy that is not well thought out," Huffman said. "It is not solving a problem. It is creating a problem."
The idea of the bill spawned from some gun-owners in Texas asking for loosened regulations in the wake of Hurricane Harvey in 2017. The NRA backed and amplified those calls and eventually helped support legislation to do just that. The NRA claims the bill is necessary to prevent property from being looted in the aftermath of hurricanes and other disasters.
But tales of looting are often exaggerated after hurricanes, and are often associated with race and class misperceptions. "There's no doubt that on any given day, there are people who are going to steal other people's stuff," retired Army Lieutenant General Russel Honore, who helped oversee the military response to Hurricane Katrina, told The Chicago Tribune in the wake of Harvey. "But what we see after these storms is a greatly over-exaggerated concern."
Honore added that, "there's a bias at play. People think that if you're poor or black you're always trying to steal something, these warnings about looting validate the stereotypes that people hold about poor people."
Houston Police Chief Art Acevedo encouraged the Governor Abbott to veto the bill in a tweet Monday.
"We experienced one of the worst disasters in Texas history during Harvey. The World watched as we all came together," he wrote. "This bill wasn't needed then & isn't needed now. This will embolden 20,000+ gang members & will not help LE. Let's hope it isn't signed."
Last week the Texas House voted to end a ban on guns in places of worship and to lift the cap of school employees allowed to carry guns on campus. Texas lawmakers, however, did slip $1 million into their spending bill to bolster a campaign on safe gun storage. The NRA opposes the program and it is now, again, up to Governor Abbott to decide on the legislation's future.