Texas Head Coach Tom Herman Issues Apology After Flipping Double Middle Fingers On Live Television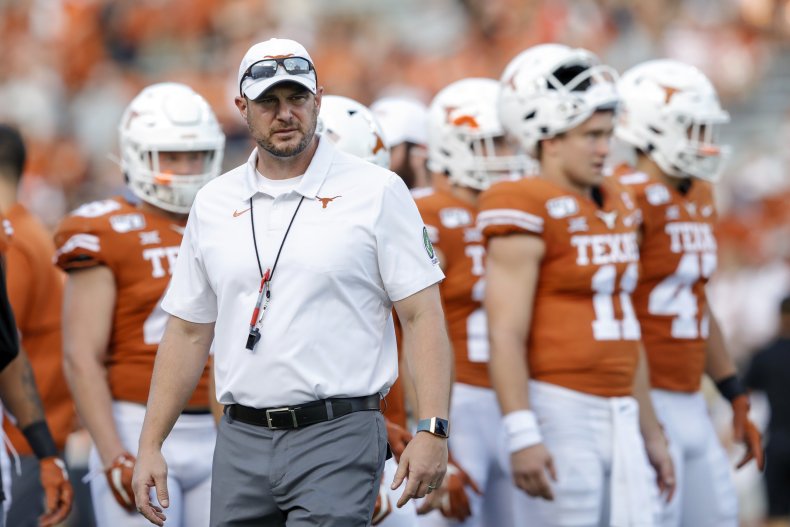 Texas Longhorns head football coach Tom Herman issued an apology for flipping double middle fingers to a camera in his office while the camera broadcast on live television.
The incident occurred Wednesday and aired on the Longhorn Network, a sports channel dedicated to covering athletics at the University of Texas.
"I do want to apologize for something that ended up on live TV this morning," Herman said. "I had no idea...wasn't aware the camera in the room was on live TV."
The video of Herman was tweeted by Twitter user Troy Hughes, who works for the local Texas radio station, 105.3 The Fan. The video shows the Longhorn TV cameras cutting to Herman and his coaching staff, when Herman looks into the camera and shows two middle fingers.
Speaking at a press conference on Wednesday, Herman explained that he made the gesture while recounting a story about an experience during the 2017 Red River Rivalry game against Oklahoma at the Cotton Bowl.
"We were joking, quite frankly," Herman said. "About my first experience riding into the Cotton bowl on the bus and the warm welcome you receive in the Red River game, I think I told you guys as well."
Herman had previously mentioned his first experience when the Longhorns faced the Sooners, mentioning in October to Burntorangenation.com that he looked out the window and saw "this elderly lady that had to have been 80 years old going double bird to the Texas bus."
The double middle-finger gesture by Herman happened on the first day of college football's early signing period, but during his press conference he stated that the two things were not related.
"It certainly had nothing to do with Longhorn Network, signing day or anything," Herman said. "Regardless it was poor judgement on my part, and I do apologize for that."
As of Thursday morning, Texas had 16 new recruits their National Letter of Intent. The team currently holds a recruiting class rank of 10 by ESPN and 11 by 247Sports.
In Herman's third season as the Longhorns head coach, the team began with a No. 10 preseason ranking by The Associated Press' Top 25 Poll and were thought to be a favorite to play in the Big 12 conference championship. However, the Longhorns finished the season with a 7-5 record, including a loss to the Oklahoma Sooners.
Texas will play PAC 12 conference runner-up Utah in the Valero Alamo Bowl in San Antonio, Texas on December 31.