The Texas Department of State Health Services (DSHS) has ordered all bars in the Dallas-Fort Worth area to close amid a spike in county COVID-19 cases.
Additionally, the state health agency has ordered the region's non-essential businesses and restaurants to operate at 50 percent capacity and all its licensed hospitals have been ordered to stop elective surgeries. The capacity restriction applies to retail stores, office buildings, manufacturing facilities, gyms and museums and libraries too, according to KXAS-TV.
The restrictions came about after DSHS figured out the region, designated as one of 22 Trauma Service Areas (TSAs) across the state, had more than 15 percent of its hospital beds occupied by COVID-19 patients. That percentage represents roughly more than 2,400 people.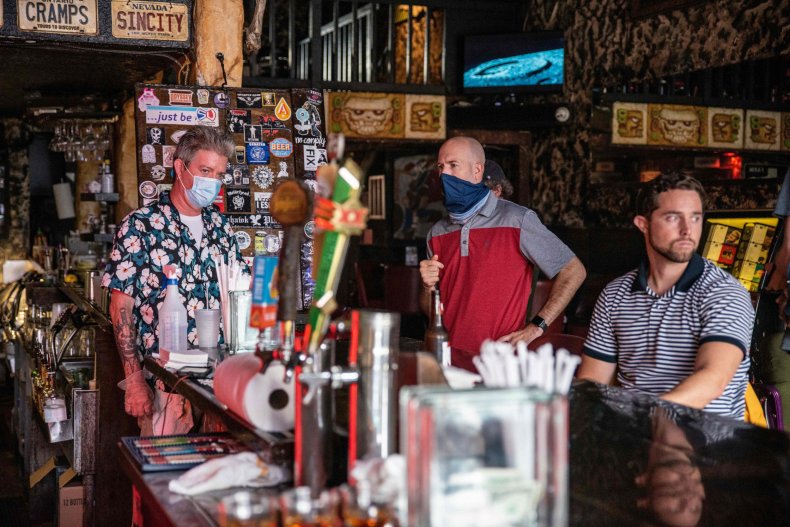 As of December 3, 15.6 percent of all hospital beds are in use for COVID patients. The region's restrictions will relax after the number of hospital beds devoted to COVID patients stays below 15 percent for seven days.
The Dallas-Fort Worth TSA region also includes the following counties: Collin, Cooke, Dallas, Denton, Ellis, Erath, Fannin, Hood, Hunt, Kaufman, Johnson, Navarro, Parker, Palo Pinto, Rockwall, Somervell, Tarrant and Wise. However, individual counties within the TSA can be exempted from the restrictions in their own COVID-19 case numbers are below a minimum threshold.
While Dallas County reported 400 new cases a day near the end of September, by the end of November the number had risen to 14,000 new cases a day, according to the Dallas County Health and Human Services.
Dallas fire and police forces have pledged to conduct enforcement checks of local businesses starting Friday, according to FOX 4. Roughly 2,800 bars across the state have begun serving food and reclassified themselves as restaurants to continue operating during the state's intermittent shutdowns, but not all bars are able to do so.
Usually, the holiday season between Thanksgiving and New Years keep bars and restaurants very busy, with venue owners and staff depending on the extra income. This year, many will struggle to stay afloat at reduced capacity, Jon Powell told FOX 4.
Overall, Dallas County is the Texas county with the second-highest number of COVID-19 cases and the third-highest number of deaths. As of December 3, Dallas County has had over 142,000 cases and 1,565 deaths.
As of December 3, Texas is the number one state in the U.S. with the highest total number of overall COVID-19 cases, with over 1.29 million cases and 22,422 deaths. On December 2, the state reported its third-highest ever daily toll of new cases with 17,713 cases reported on that day alone.
All the hospital beds in the west Texas city of Lubbock are currently filled, according to KCBD-TV reporter Michael Cantu.
Newsweek contacted DSHS for comment.