Texas Health Official Says Hospitalizations Remain At A 'Manageable Level' As State Records Highest Daily Total Of Coronavirus Cases
Texas set another record of reported cases of the new coronavirus on Tuesday, making it the fifth day in a row the state has seen a spike in new COVID-19 patients, which has some questioning if there will be enough hospital beds as the virus continues to surge.
Texas Governor Greg Abbott said at a press conference on Tuesday that there were plenty of hospital beds available to treat COVID-19 patients if they are needed.
"We are in the middle of a short period of time where all of us are have to co-exist with COVID-19," he said. "This is going to continue to be the case for at least the next few months until we have the medicines to treat people who test positive for COVID-19"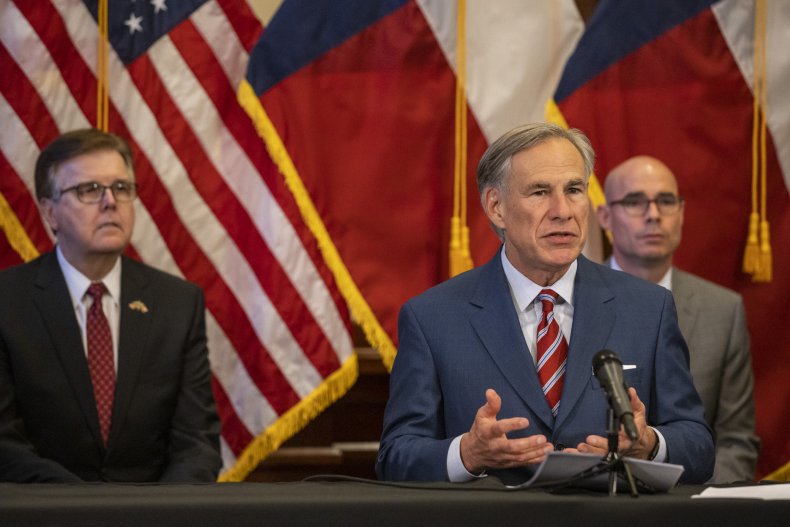 Hospitalizations for new coronavirus patients have been on the rise in the state, with 1,756 reported on June 1. The Texas Department of State Health Services reported 2,518 hospitalized COVID-19 patients Tuesday, an increase of 192 patients from the day before.
"We are seeing [hospitalizations] occurring at a manageable level," Dr. John Hellersted, commissioner of the Texas Department of State Health Services, said during the press conference, adding that state health officials expected to see an increase in those needing hospital care.
Abbott said the stay-at-home orders implemented March 30 through April 30, as well as halting elective medical procedures, helped ensure hospitals weren't overrun with patients when the state began to reopen in May.
"That goal has been achieved," he said. "Fewer residents in Texas test positive for COVID-19 than residents of any larger state in the United States."
Abbott added that few of those who have tested positive for the new coronavirus in Texas have needed inpatient care, but there would be available beds for those who did need to be hospitalized.
"We are better prepared to deal with COVID-19 today than we were in March or April," he said. "There are new medical strategies, there are new treatments that are available today."
Dr. John Zerwas, executive vice chancellor for Health Affairs, University of Texas System, said the state has 54,844 total beds in hospitals across the state, with 14,993 of those available COVID-19 patients. Texas also has 1,675 ICU beds and 5,869 available ventilators for COVID-19 patients.
Currently, 2,518 people are hospitalized in Texas due to COVID-19, which Zerwas said represented a small percentage of the overall percentage of patients receiving hospital care.
Texas is among nine other states recording the highest daily number of COVID-19 cases since states began reopening their economies last month. The state set an all-time record Tuesday with 2,622 new cases, the previous high of 2,504 cases was set on June 10.
Speaking to reporters Tuesday, Abbott attributed the June 10 numbers to more than 500 inmates testing positive in Jefferson County, and a data error in Pecos County. As far as the all-time high, the governor said the rise is in part to the results returning to the state in batches, therefore creating a higher number of positive cases.
At the press conference, Hellersted again encouraged Texans to follow the recommendations of handwashing, social distancing, wearing a face-covering will help minimize the spread of the virus.
"We have been recommending all along, the steps that people take to personally be responsible for their own health, and personally take measures that will protect the health of the folks in the community," he said. "We have been successful in Texas in that we have kept COVID at bay in the first wave."
Hellersted said the social distancing steps recommended in nearly every state have also helped ensure the hospitals are not overwhelmed, and that the vast majority of Texans have not been exposed to the virus.
"The possibility that things could flow up again and produce a resurgence of COVID-19...is still very real," he said.
Since the start of the COVID-19 pandemic, Texas has seen 89,108 cases of the new coronavirus, with 28,036 of those cases still active. Over 59,000 patients have recovered from the virus, while 1,983 people died.