Texas High School Player Ejected From Game, Storms Back to Attack Referee
A high school football game Thursday night in south Texas got ugly when a player from one team who had been ejected for a penalty re-entered the field and attacked the referee who ejected him. The player slammed the referee onto the turf with a blind-side hit.
The retaliation turned into a scrum on the field. A cart was brought onto the field, but the referee eventually was able to walk off the field on his own.
Here's one video from the hit.
Here's the scene. The Edinburg Bobcats were playing Pharr-San Juan-Alamo Bears in a game Thursday night in Edinburg.
Andrew McCulloch of the Brownsville News tweeted after the incident that Emmanuel Duron of Edinburg High "ran onto the field and body slammed the ref who ejected him."
"On top having an all-area caliber season on the defensive line for Edinburg High, Duron was positioned to compete for a state wrestling title too," McCulloch continued. "Hard to see that happening now."
Duron was escorted off the field by police. He was not in handcuffs, according to reports.
Here's anther view of the sequence of events from Edinburg on Thursday night.
The teams play in Class 6A, the highest classification in Texas. They are part of District 31 in Region IV, which is one of the state's southernmost sports districts—situated near Mexico in the Rio Grande Valley.
The social media accounts indicate that Duron was ejected for a late hit during a play. Duron, a defensive lineman who was on the sideline for his ejection, then rushed the field and drove the referee into the turf as if he were a tackling dummy on a practice field.
Coaches and other personnel from Edinburg High could be seen trying to stop Duron from attacking the ref before it happened.
Edinburg went on to win the game, 35-21, over P-S J-A. The Bobcats are now 4-1 in district and 4-2 overall this season, with a trip to the playoffs now on the horizon.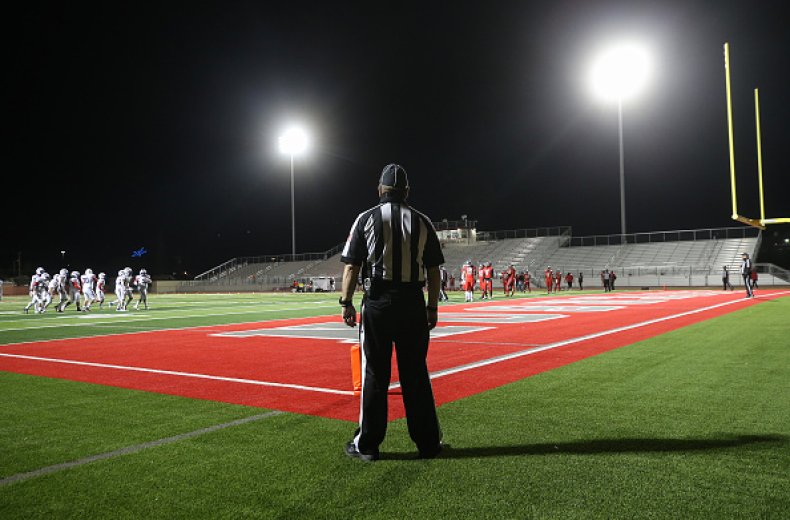 The Texas 5A and 6A playoffs begin next weekend, and Thursday night's game in Edinburg would help determine where the Bears would go. There's no indication of whether or not Duron would continue the season with them.
The Texas high school season got fractured because of COVID-19. Schools in Class 2A through 4A will enter their state quarterfinals this weekend, with state championships two weeks from now—Class 1A (six-man football) will have their state championships the week before them. Class 5A and 6A will begin their treks to AT&T Stadium for their respective state championships next weekend.
Class 5A and 6A schools in Texas will play their state championships in early January.