Texas School Students Stage Walkout to Support Principal Accused of Supporting CRT
Students at Colleyville Heritage High School in Colleyville, Texas, marched out of school on Friday to support their principal who has been accused of supporting critical race theory (CRT).
James Whitfield, the school's principal, has been on administrative leave since August and is expected to know a decision about his employment on Monday, according to the school's meeting agenda.
Kristin Snively, a spokesperson for Grapevine-Colleyville Independent School District (GCISD), told Newsweek on Saturday that a small group of Heritage High School students walked out of school and protested outside the campus.
"In GCISD, it is our goal to teach students to become effective communicators and global citizens; however, leaving or disrupting class is not an appropriate way to demonstrate these traits," Snively said in an emailed statement.
Stetson Clark, a former school board candidate, during a July school board meeting accused Whitfield of backing CRT, which has been a controversial issue in education.
"Because of his extreme views I ask that a full review of Mr. Whitfield's tenure in our district be examined and that his contract be terminated effective immediately," said Clark, WFAA reported.
Clark said that Whitfield is "encouraging the disruption and destruction of our districts," by writing about systemic racism in a message to families following the murder of George Floyd in 2020.
On July 31, Whitfield defended himself against the accusations and wrote in a Facebook post that he is not "the CRT [Critical Race Theory] Boogeyman."
"I am the first African American to assume the role of principal at my current school in its 25-year history, and I am keenly aware of how much fear this strikes in the hearts of a small minority who would much rather things go back to the way they used to be," he said.
Whitfield also said that district officials in 2019 asked him to take down Facebook photos of himself kissing his wife—who is white— because they "don't want to get stuff stirred up." Whitfield was working as a principal at Heritage Middle School at the time.
The GCISD didn't disclose the reasons behind their decision of placing Whitfield on leave, but confirmed that it is not due to the allegations that the principal was teaching and promoting critical race theory.
"The decision to place Dr. Whitfield on administrative leave was not a result of statements made by members of the public, including those who spoke at recent meetings of the GCISD Board of Trustees," the school said in a statement on September 1. "Nor was the decision made in response to allegations Dr. Whitfield was teaching Critical Race Theory, or because of the photos on his social media account that were brought to the attention of the District in 2019."
Snively in August told Newsweek that the decision to place Whitfield on leave was due to a "personnel matter" without sharing any further information, and reiterated that remark on Saturday when asked again about reasons behind this decision.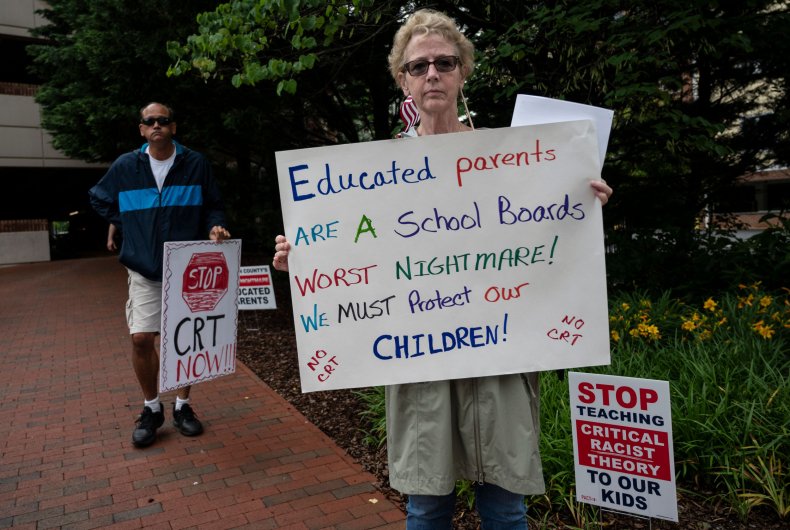 One student, who marched in support of Whitfield on Friday, described the principal's diversity efforts as "amazing," while another student said that their colleagues will continue to support Whitfield in case the administration fires him.
"They're here to show their voice. That they will no longer give into that culture of forcing to assimilate and being ashamed of their identity," said student Sunehra Cowdhury, WFAA reported.
People also showed their support to Whitfield through an online petition, urging the school board to keep him on campus. It has received over 2,000 signatures.
Update (9/13/2021, 4:16 p.m.): This story has been updated to include comments from GCISD spokesperson Kristin Snively.