Texas Hospitals Could Be Overrun Within Weeks as Coronavirus Patients Spike 55 Percent
As Texas sees a dramatic increase in patients hospitalized with new coronavirus infections, medical officials are concerned the influx of admissions could overwhelm the state's health care system over the next few weeks.
Speaking about the rise in hospitalizations related to COVID-19 on Saturday, Dr. Bryan Aslip, executive vice presidentof San Antonio's University Health System, warned of consequences to new and previously established patients in comments to San Antonio Express-News. University Health System is San Antonio's largest hospital network.
"If we get to that point, where we truly run out of capacity in our hospitals, it means that we won't be able to care not just for COVID patients, but we won't be able to care for patients that we care for all the time—that means patients with heart attacks, or strokes or cancer or trauma," Aslip told the publication. "When we're full, we're full."
San Antonio has reported a significant uptick in hospitalizations related to the virus over the past week, amid rising patient admission rates across Texas. COVID-19 hospitalizations increased by 55 percent in San Antonio over the past week, San Antonio Express-News reported, noting comparable spikes seen in Houston, Austin and Dallas-Fort Worth.
According to the outlet, COVID-19 hospitalizations increased by 44 percent in Houston, 34 percent in Austin and 21 percent in Dallas-Forth Worth over the past seven days. Last week, Houston intensive care units reached 102 percent capacity as the city continued to report a surge in new virus cases as well as subsequent hospitalizations.
Statewide, Texas' COVID-19 hospitalizations rose by roughly 38 percent over the past week. Data published by the Texas Department of State Health Services (DSHS) shows COVID-19 patient admissions increased from 5,913 to 8,181 hospitalizations between June 29 and July 5. Sunday's most recent figure was the highest reported by Texas health authorities throughout the coronavirus pandemic, trailing close to one month of consistently increasing COVID-19 hospitalizations.
Newsweek reached out to San Antonio's University Health System and the Texas DSHS for comments but did not receive replies in time for publication.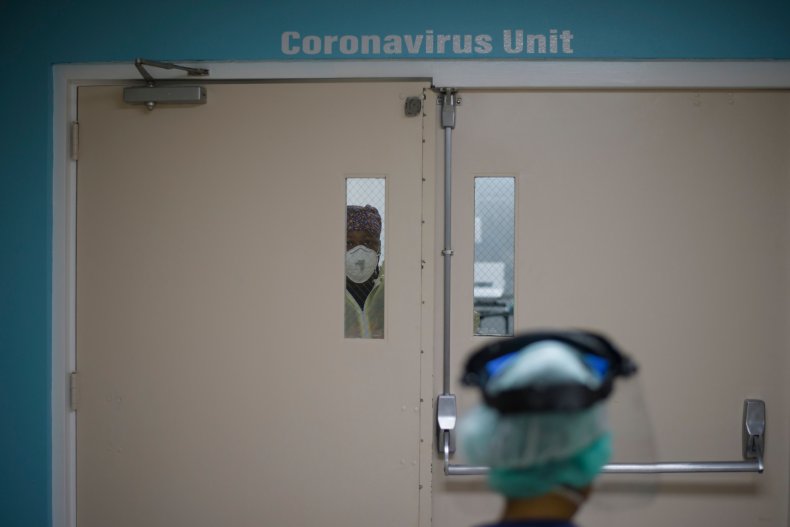 The spike in COVID-19 patients admitted to Texas hospitals comes as the state reports an ongoing resurgence of virus cases diagnosed statewide. The Texas DSHS confirmed the state's highest single-day increase in infections on Saturday, July 4, with more than 8,250 new cases. The daily report surpassed Texas' previous record increase in daily diagnoses, confirmed by the DSHS on Wednesday, July 1.
As of Sunday, July 5, the state's health department had confirmed more than 195,000 cases of the virus since the pandemic began. More than 120,000 of those cases were diagnosed since June 5, when the DSHS confirmed roughly 70,000 total cases. Counties surrounding Houston, Dallas-Fort Worth, Austin and San Antonio have confirmed the highest incidence of infection.