Doctors Treat Patients in Parking Lot After Texas Hospital Allegedly Fails to Pay Rent
Doctors at a Houston hospital have resorted to treating patients in a parking lot after being locked out of the building due to rent and fees allegedly unpaid by the hospital.
On Monday, staff at The Heights Hospital were unable to enter the building, where a note posted on the door advised the locks had been changed and the keys would only be given when $461,302.24 in rent and fees are paid, according to Houston's ABC13.
"Please be advised that the door locks to the leased premises have been changed and [the] tenant shall be excluded therefrom due to non-payment of rent," the note read, Houston's KHOU reported.
Doctors reportedly pulled a cart into the hospital parking lot with some medical supplies to treat patients, according to the Houston Chronicle.
Dr. Felicity Mack, a physician at the hospital, told KHOU: "We showed up around 8 this morning, myself and my staff, to get ready...we were told we were not allowed in the building anymore.
"We weren't given notice to take care of our patients and let them know so I've got patients that continue to show up today that I was supposed to see.
"I'm treating patients out in the parking lot so that at least we can get them some sort of care," said Mack. She was unable to access other equipment from the building to be able to treat other patients like Linda Fisher, who has been receiving regular treatment from Mack for the lingering effects of COVID-19, ABC13 reported.
Fisher, who is in her mid-30s and now in a wheelchair, was reported to experience daily migraines and tremors.
"It's detrimental to patients and to myself," Fisher told ABC13. "It will impact my functionality. I get regular visits all the time, so I don't know what's going to happen.
"If this continues I don't know what I'll do. It will be a complete disruption of my care," she told the Houston Chronicle.
Another patient, Milo Johnson, told KHOU: "I come here twice a week for wound care...without it...kind of set me back a little bit."
Mack told ABC13: "I tried to contact the owners. They aren't responding. The title company is not responding. We are really not getting any answers, but at the end of the day, my primary concern, like I said, is my patients."
Dr. John Thomas, another physician at the hospital, told ABC13: "It is very obvious that somebody is thinking only about money and not about community and lives."
Staff have been unable to retrieve their belongings from the building and their pleas to be allowed inside to treat their patients were unanswered, according to Congresswoman Sheila Jackson Lee, representing Texas' 18th Congressional District, KHOU reported.
The latest action was taken by a management company hired by the hospital, according to Jackson Lee. "My understanding is that the hospital, recognizing what it had done, is meeting with the management company at 4:30 p.m. today [Monday] to resolve helping the doctors," Jackson Lee told KHOU.
The Congresswoman also noted she will "be looking into any procedures that the hospital did not properly follow and the response to such on behalf of the doctors and patients."
She added, "It's ironic that in the middle of the pandemic of COVID-19 when one of the patients locked out was a COVID-19 patient, that this dastardly act of confusion would occur. Patients and doctors should not have to suffer in this way."
AMD Global, a real estate developer in Houston, was reported to have bought The Heights Hospital in 2017. Two companies (1917 Ashland Venture and 1917 Heights Hospital) were launched by AMD Global's chief executive officer (Dharmesh Patel), as well as a former CEO of The Heights Hospital (James Robert Day), to own and manage the hospital, according to filings with the Texas secretary of state.
Houston lawyer Miles Cohn, who is down as the contact for making payments and retrieving the keys of the hospital building, was reported to represent Arbitra Capital Partners. The Nevada company recently filed a suit in Harris County court against Patel and Day in connection with a $28 million loan to 1917 Heights Hospital.
According to the suit, Arbitra, which holds the note to the loan, is allegedly owed more than $3 million in accrued interest, the Houston Chronicle reported.
In July 2020, a civil suit against 1917 Heights Hospital was also filed in Harris County by Integranet Physician Resource Inc., who claimed they were owed $300,000, according to ABC13.
Newsweek has contacted AMD Global, The Heights Hospital and Jackson Lee for comment.
The latest incident comes as total confirmed coronavirus cases in Texas approach 2.2 million, with 32,711 reported deaths, as of Tuesday, according to Johns Hopkins University (JHU).
Current COVID-19 hospitalizations across Texas are approaching 13,900, as of Tuesday, according to data compiled by The Atlantic's COVID Tracking Project.
The number of hospital beds needed in Texas is projected to peak at around 16,461 on January 27, according to the latest forecast by the Institute for Health Metrics and Evaluation at the University of Washington.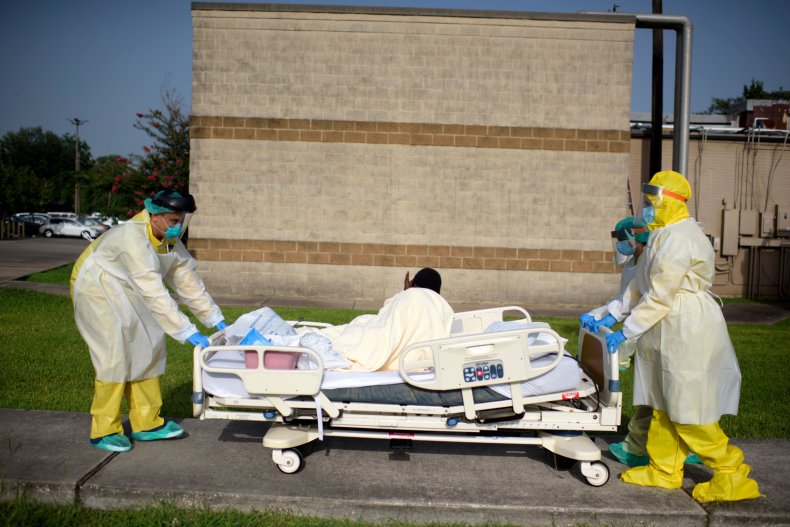 The wider picture
The novel coronavirus has infected more than 95.6 million people, including just over 24 million in the U.S., since it was first reported in Wuhan, China.
More than two million people have died worldwide and more than 52.7 million have recovered as of Tuesday, according to JHU.
The graphic below, produced by Statista, illustrates the spread of COVID-19 in the U.S.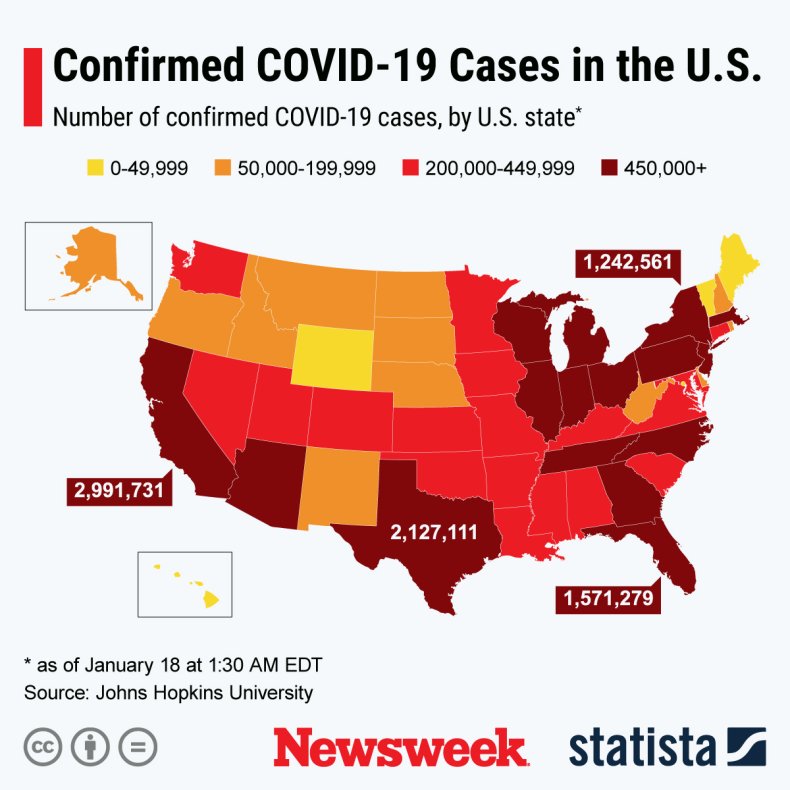 The graphic below, produced by Statista, illustrates the daily COVID-19 death toll in the U.S.