Tiger Caged in Abandoned Texas Home Discovered by Person Looking for Place to Smoke Marijuana: Police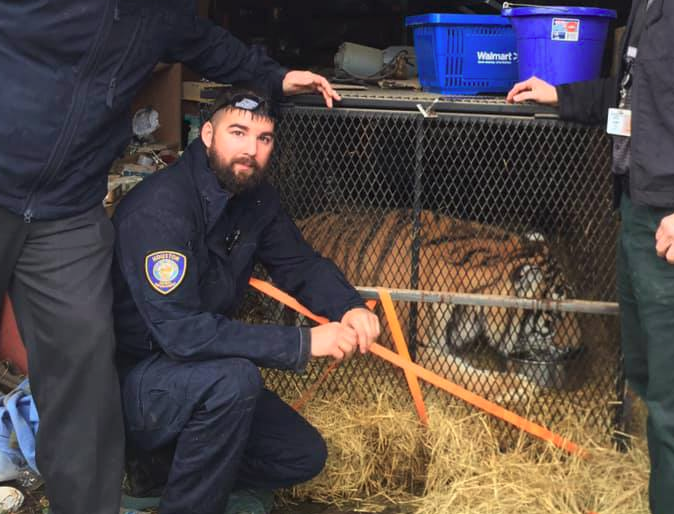 A tiger was recovered from an abandoned home in Houston, Texas, this week after being spotted by a person looking for a place to smoke marijuana, police say.
The building, in the 9400 block of East Avenue J., was being used to house a large female tiger in a "rinky-dink" cage in the garage, KPRC-TV reported, citing police. Packages of meat were discovered with the animal. The garage was secured in place with a screwdriver.
The identity of the pot-smoking tipster who first reported the tiger was not released. Officials said the individual had initially been asked if they were hallucinating or high.
The tiger was saved Monday by the House Police Department's animal cruelty unit. It was subdued and transported to a facility managed by BARC Animal Shelter and Adoptions.
Houston police sergeant Jason Alderete told local media outlet KTRK-TV: "A concerned citizen called 311. They were trying to get into this house to smoke marijuana. We questioned them as to whether they were under the effects of the drugs or they actually saw a tiger. They saw a tiger in this building, this vacant house that's obviously been abandoned for some time."
It was not immediately clear how long the tiger had been living at the dilapidated residence. Police did not confirm if an owner had been identified. An investigation remains ongoing.
Lara Cottingham, Houston city's chief sustainability officer, told KPRC-TV the tiger was found "in a pretty small cage inside...a house that didn't look like it was in the best shape."
"She is pretty large so she doesn't look underfed," Cottingham added, in an on-air news segment. "She was thirsty and wasn't especially threatening [but] they did tranquilize her just before they transported her. It's a beautiful animal and we want it to live a happy healthy life."
BARC Animal Shelter and Adoptions published an image of the tiger to Facebook on Monday. The organization confirmed online it is illegal to own a tiger inside city of Houston limits.
"People think that it is fun or that it is cool to have an exotic pet," Cottingham also said yesterday, USA Today reported. "More often than not it gets big, it gets expensive, it gets dangerous, and they end up turning the animal in or abandoning it."
Houston Zoo told KPRC-TV it did not have the resources to give the animal a home. It has two Malayan tigers and "does not have capacity to receive additional tigers," a statement read.
"Fewer than 3,500 tigers of all tiger subspecies remain in the wild today, according to the Tiger Conservation Campaign," officials added. "Malayan tigers surviving on the Malay Peninsula are critically endangered with an estimated population of 300 remaining in the wild."