Texas ICU Capacity Not As Dire As Data Suggests, Hospital Official Says
The highly transmissible Omicron variant has rapidly driven up the number of COVID infections across the country and resulted in an uptick in the nation's hospitalizations, but hospital settings may not be as strained as federal data suggests.
Stephen Love, the president and CEO of the Dallas-Fort Worth Hospital Council, told Newsweek that just analyzing ICU capacity figures without contextualizing the flexibility many hospitals have to accommodate an influx of patients can be misleading.
"Hospitals report certain data to the state of Texas and the state passes some of that data to the federal government," Love explained. "There are timing differences and so sometimes data is stale, outdated or incorrect by the time it is published."
"To say there are no available ICU beds in certain hospitals in Texas is very misleading to the general public and frankly incorrect in some cases," he added.
Data last updated by the Department of Human and Health Services on Friday indicates that 92 percent of Texas ICU beds are currently in use.
But Love, whose council is partnered with more than 80 facilities in North Texas, said the hospitals he works with are not seeing the dire situation these figures imply.
"The fact is I checked my daily report and could not reconcile the numbers," he said. "I checked last night and out of a 19-county area, [one] particular county had the second-highest number of available staffed adult ICU beds in our North Texas region" despite figures from last week that showed few beds were left in that county.
"We never want to cause unnecessary alarm or fear based on data that is not interpreted correctly," he added.
Facilities report their data to HHS based on the events of the day prior and are allowed to provide corrections or updates on data as old as 10 days. The department regularly updates the information on its site within two to three hours upon receiving it from a hospital.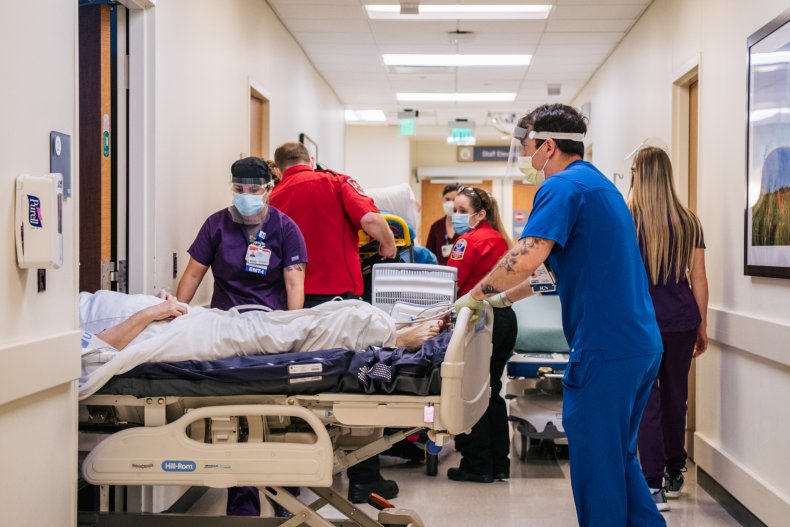 Love explained that each hospital is provided a number of licensed beds by the state.
A hospital will then set up a portion of those beds to treat patients and subsequently staff each bed with enough healthcare workers to treat those patients. But Love pointed out that not every licensed bed is staffed.
"Let's take a small community hospital as an example. Let's say the state licenses 100 beds and the hospital sets up 90 beds for use," he said. "As the hospital leadership monitors patient volume, let's say they staff 80 available beds for inpatient treatment. Even though the hospital may fill all 80 beds, they still have the bed capacity to expand to 100 beds if needed."
He said hospitals often do this as a management strategy to avoid the additional human and financial costs of staffing an empty bed.
"The availability of these beds is a very fluid situation and changes hourly throughout the day. To say a hospital has zero available ICU beds without knowing the flexibility of bed capacity can [cause] unnecessary fear," Love cautioned.
"Even in the height of a surge where licensed beds are completely full, hospitals have critical contingency plans like turning recovery rooms into ICU beds because recovery rooms have much of the same equipment needed for ICU treatment," he added. "North Texas is blessed in that many excellent hospital systems have hospitals in the region and can move patients (in extreme surge situations) between and among each other."
Similarly, the HHS dashboard shows that 87 percent of Mississippi's ICU beds are in use as of Friday.
However, a spokesperson from Baptist Memorial Health Care—which operates 10 hospitals in Mississippi, including the seventh larger provider in the state—said doctors are seeing more available beds than being reported by federal data.
"Today, of the 127 ICU beds we have in our Mississippi hospitals, 99 (77 percent) are occupied. COVID patients are in 47 (47 percent) of those ICU beds," spokesperson Ayoka Pond wrote to Newsweek on Friday.
While the figures may not reflect exactly what hospitals officials are facing, Love said it is very possible for facilities to become overwhelmed like they were in the early days of the pandemic.
"There is ultimately a point where staffing and bed capacity can be completely depleted at the very height of a critical surge," he said. "At that point, other alternatives like patient transfers come into play."
For example, the Omicron variant has taken a vigorous toll on hospitals serving the St. Louis region in Missouri.
The St. Louis Metropolitan Pandemic Task Force, which is a collaboration between the area's largest health care systems, told Newsweek that the recent surge following Thanksgiving, "has placed extraordinary strain on our ability to care for the ill and injured."
"Our current resources are stretched to deliver effective and safe care," the task force said. "Patients are waiting in emergency rooms for hours, sometimes days, due to limited inpatient capacity, many non-urgent procedures are being postponed, and routine care is being put on hold despite potentially serious consequences for patients."
"This is unsustainable. Because of this, the St. Louis regional health care systems are requesting Federal help to support staffing throughout our regional hospitals," it added.
On Thursday, President Joe Biden announced the deployment of more than 720 National Guard members to help six states battling a growing COVID surge. There are currently more than 23,000 members deployed across 49 states, including Missouri.
Update 1/14/22 1:25 p.m. ET: This story was updated with information from HHS.
Update 1/14/22 2:12 p.m. ET: This story was updated with comments from the St. Louis Metropolitan Pandemic Task Force.