Texas Judge Offers Montgomery County for In-Person GOP Convention
A top Montgomery County official has offered to host the Texas GOP convention after Houston Mayor Sylvester Turner canceled the planned gathering in his city on Wednesday.
Montgomery County Judge Mark J. Keough said the area directly north of Houston would be willing to host the Texas GOP Convention if organizers and attendees followed coronavirus guidelines.
He also promised not to allow "political pressure" to result in last-minute changes to the planned convention, should it still go ahead in-person.
Speaking to his followers in a Facebook video, Keough said: "Less than four weeks ago, there was no mention of any problems with 60,000 people gathering together to protest. No mention of handwashing, no mention of social distancing, and no mention of wearing masks, or any of that."
He later said that he supported the right to protest, and added that it was also important the Texas GOP be allowed to hold their convention in order to meet requirements for the November election.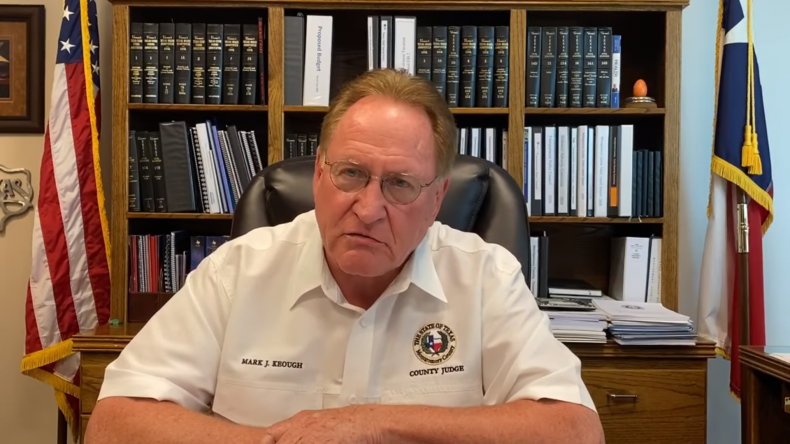 "I'm offering as the county judge of Montgomery County the ability to host this convention for the Republican Party," Keough said. "We invite you to come to Montgomery County. If you can make the logistics work... we will be great hosts."
He added that no "political pressure" would be put on the state party, and no last-minute changes as long as it followed coronavirus safety guidelines.
Newsweek has contacted the Texas GOP for comment on the offer, and will update this article with any response.
Keough offered to host the state Republican Party convention in Montgomery County yesterday after Houston Mayor Turner announced that he had instructed Houston First to cancel the event, set to take place in the city next week.
Houston First, a local government corporation operating city-owned buildings, runs the George R. Brown Convention Center where the Texas Republican Convention was due to take place in-person.
"Today I instructed the Houston First Corporation to exercise its right contractually in canceling the State's Republican Convention that was set to take place next week at GRB," Turner said on Wednesday.
In a letter to the Republican Party of Texas, Houston First said it was canceling the event due to "the unprecedented scope and severity of the COVID-19 epidemic in Houston" and fears about the health risks posed by a large indoor event.
"The COVID-19 outbreak, its consequences, and efforts by governmental authorities and public health officials to control the spread of the disease based on the best scientific evidence available have negatively affected our ability to host the 2020 Texas Republican Convention at the George R. Brown Convention Center," the corporation added.
Hitting back at the decision, Texas Republican Party Chairman James Dickey said the move was an effort to "deny a political Party's critical electoral function," and said the party was weighing its legal options.
"We are prepared to take all necessary steps to proceed in the peaceable exercise of our constitutionally protected rights," he said.
The Texas State Republican Convention was originally scheduled to be held between July 16 and July 18 at the George R. Brown Convention Center.