Texas Law Rewarding Private Citizens Who Successfully Sue Abortion Providers Faces Lawsuit
Women's health providers and abortion activists are suing to stop a Texas law that encourages private citizens to enforce a six-week ban on the procedure from going into effect.
A federal lawsuit filed Tuesday, led by Whole Woman's Health, argues the law "flagrantly violates the constitutional rights of Texans seeking abortion and upends the rule of law in service of an anti-abortion agenda."
The legislation in question, S.B. 8, was passed by the Republican-controlled state legislature and signed into law by Governor Greg Abbott in May. The bill bans abortions after a fetal heartbeat has been detected, effectively prohibiting the procedure after around six weeks of pregnancy—before many women are even aware they are pregnant.
The ban applies to cases where the woman was impregnated as a result of rape or incest. The only exception is for medical emergencies.
"Our creator endowed us with the right to life, and yet millions of children lose their right to life every year because of abortion," Abbott said before signing the bill. "In Texas, we work to save those lives, and that's exactly what the Texas Legislature did this session."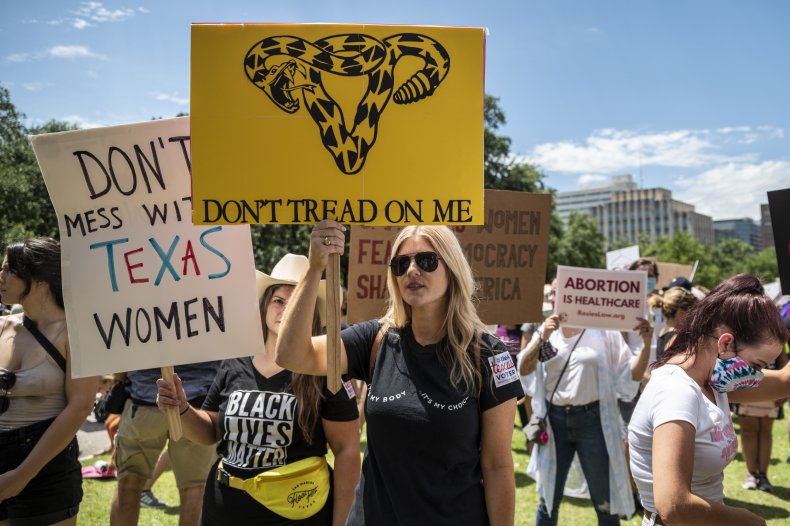 So-called "heartbeat bills" have been passed in several GOP-led states, but haven't been able to go into effect due to legal challenges. The Texas law, however, incentivizes private citizens—not government officials—to enforce the ban.
An individual who is able to successfully sue an abortion provider, or anyone who "aids or abets" abortion care, can collect a minimum of $10,000. There is no apparent maximum reward.
"In effect, S.B. 8 places a bounty on people who provide or aid abortions, inviting random strangers to sue them," the lawsuit reads.
The law is scheduled to go into effect on September 1.
Health groups and activists argued that if the law isn't blocked, abortion providers and others who are sued will be forced to spend "massive amounts of time and money to defend themselves in lawsuits across the state in which the deck is heavily stacked against them."
The lawsuit added, "Even if abortion providers and others sued in S.B. 8 lawsuits ultimately prevail in them—as they should in every case if only they could mount a fair defense— the lawsuits against them will still have accomplished S.B. 8's goal of harassment."
This case was filed in the U.S. District Court for the Western District of Texas on behalf of Whole Woman's Health, 11 Planned Parenthood centers throughout the state, Southwestern Women's Surgical Center, Austin Women's Health Center, Alamo Women's Reproductive Services, and Houston Women's Reproductive Services.
Several clergy members, doctors, clinic staff and activists also signed onto the lawsuit. The suit takes aim at state trial court judges, county clerks, medical boards and Texas Attorney General Ken Paxton.
Newsweek reached out to Paxton for comment but didn't receive a response before publication.