As Texas lawmakers continue to speak out about the situation at the southern border on social media and cable news outlets, elected officials in Arizona have quietly gotten to work for their constituents.
Speaking with mayors in the state's border towns and other municipalities that have been impacted by the surge of migrants, officials were quick to thank Arizona Democratic Senators Kyrsten Sinema and Mark Kelly for their help at the federal level.
Gila Bend Mayor Chris Riggs said if it weren't for Sinema stepping in, his town would be overwhelmed by an influx of migrants. Despite lacking any Border Patrol facility, Gila Bend, with less than 2,000 residents, has become a drop off point for an overflow of migrants at the southern border.
"The first two drops [Border Patrol] planned on doing, Senator Sinema actually stopped them because she understands there's nothing here for them and she understands that they're putting migrants in very bad situations because we have no way to help them," Riggs told Newsweek on Wednesday.
He said the moderate Democrat also jumped in to help earlier this week when six migrant families were handed off to Gila Bend with no shelter that would take them in.
"We scrambled trying to find them a place where they could get a bed, at least a shelter that could take care of them for the day. We had Senator Sinema jump in our court. She's been really helpful with us... [Sinema] found us a shelter to take them to," he explained.
A spokesperson from Sinema's office told Newsweek that the senator has been committed to improving "cooperation and coordination between federal agencies, local governments including Mayor Griggs, and non-profits on the ground who are helping safely house and transport migrants to protect Arizona communities."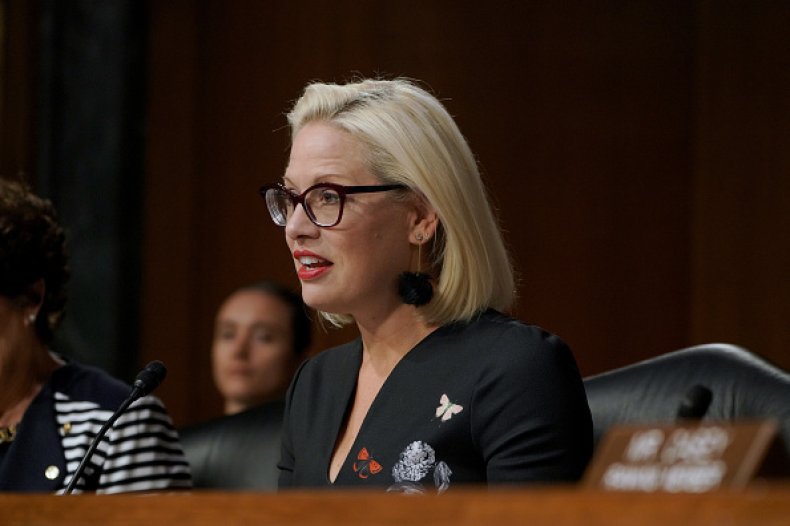 Douglas Mayor Donald Huish said Kelly, the state's other senator, has also been instrumental in speaking on behalf of Arizonans as migrant facilities become increasingly crowded. He said Kelly even visited his city, a main port of entry in Arizona, before reports of a surge emerged.
"Senator Kelly has been quite involved too," Huish told Newsweek. "He came down early on in January to visit and hear from the border crossing people exactly what was going on. The search didn't commence then, but I think he had the foresight to want to know what's going on and what are some of the weaknesses and challenges that we may experience"
During the visit, Kelly also spoke with the officials from Yuma, port directors, and Border Patrol officials in those those areas.
A spokesperson from Kelly's office wrote to Newsweek: "Senator Mark Kelly understands that we need a secure border and to fix our broken immigration system. He has been working with mayors and partners along the border to ensure a response that prioritizes public health and safety and that does not fall on the shoulders of border communities."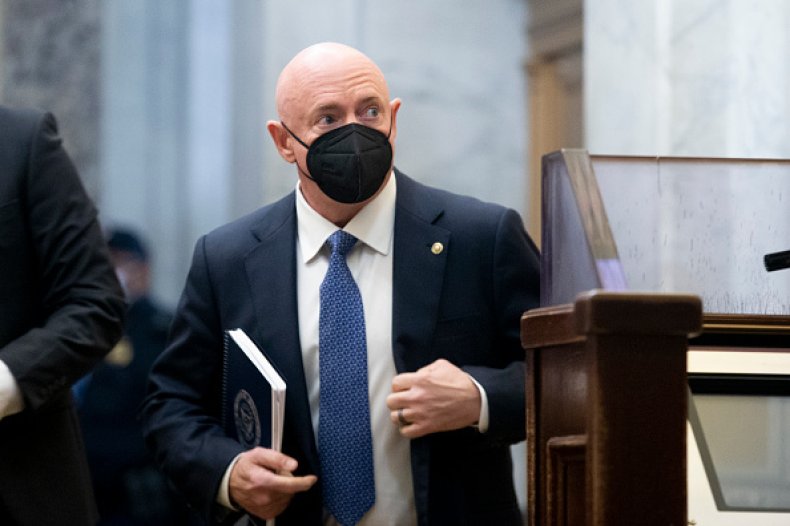 At the same time, Texas' Republican senators have gone on a press tour criticizing the Biden administration for its immigration policies and response to the migrant situation.
Senator Ted Cruz, who is scheduled to visit the state's Rio Grande Valley on Friday, has railed against President Joe Biden for refusing to let independent journalists view the migrant facilities along the border. In a letter to the White House, Cruz accused the Biden administration of "hiding the truth" from the American people.
"How much more will it take for the Biden administration to admit there is a crisis on the border?" Cruz tweeted on Monday.
He will be joined on Friday by the state's other senator, John Cornyn, who has also been vocal in his criticisms of the federal government. In an appearance on Fox News last week, the senator said the Biden administration is "in denial" about a crisis at the border.
"I think it's going to get nothing but worse," said Cornyn. "And they can't build enough facilities to house the sea of humanity that's going to keep coming across our border in far larger numbers."
On Wednesday, Cornyn told Fox News he has been to the border on "numerous occasions," which is why he is bringing his Republican colleagues there later this week.
"Senator Cruz and I are taking 13 of our colleagues from the Senate to the border, as I've done before, to try to help them understand, let them get exposed to the same sort of expertise and advice that I have. I've been there, as you can imagine, on numerous occasions," Cornyn said. "But the Border Patrol is telling us that you cannot build enough facilities, you cannot build enough capacity to keep up with the expected increase in flow of people coming across the border."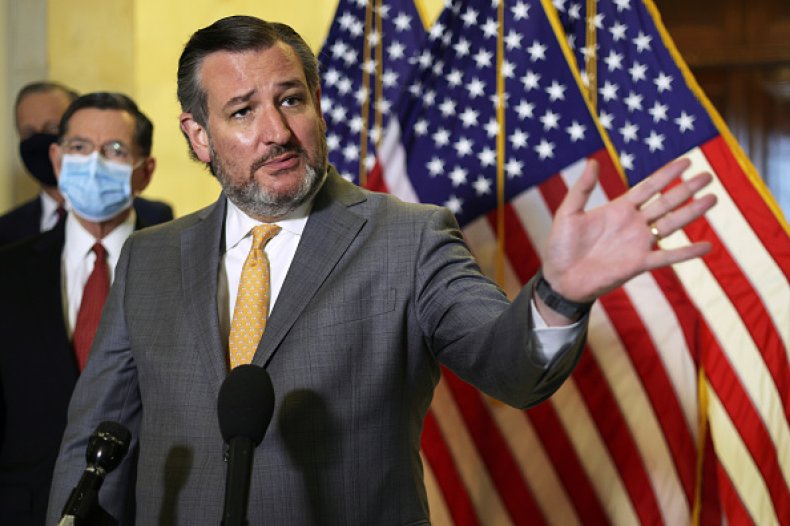 But while Texas' lawmakers have been outspoken against the Biden administration in regards to the southern border, most of Arizona's officials have worked on the the hot-button topic in less public ways.
On February 4, Sinema and Kelly wrote a joint letter to Department of Homeland Security Secretary Alejandro Mayorkas, stating their commitment to Biden's new border policies.
"We are both committed to ensuring the border is secure and that migrants are treated fairly and humanely," the senators wrote. "The President signed several Executive Orders on Feb. 2, 2021, to improve the asylum process. We support those efforts, but it is also critical to provide enough resources to ensure any changes at the border proceed efficiently and effectively. If DHS, local governments and stakeholders work together, we believe we can avoid the type of border crisis that occurred in the spring of 2019."
While the approach from Sinema and Kelly have looked quite different from that of the Texas senators, a spokesperson from Sinema's office told Newsweek she is still committed to bipartisanship and is working with Cornyn to find an agreement that will successfully respond to the ongoing crisis.
Both Riggs and Huish also mentioned that their congresspersons, Andy Biggs and Ann Kirkpatrick, have provided assistance to their towns in recent weeks. Some state representatives have also stepped up to the plate, but Riggs noted that Arizona Governor Doug Ducey, a Republican, has remained silent.
"We have one Arizona state representative, Joel John, who has really stepped up to help, but he doesn't carry the weight being just an Arizona representative," Riggs said. "Where Congressman Biggs carries more weight and definitely, Senator Sinema carries a great deal more weight. But other than that, nobody has reached out to us and we've tried to reach them. We haven't even been contacted by our governor."
"Congresswoman Ann Kirkpatrick is also very supportive," Huish added. "She'll be down here visiting next week to get a firsthand look and information. All our representatives at the federal level have been very supportive and have issued letters on our behalf, and all of Arizona's behalf, to the administration for assistance."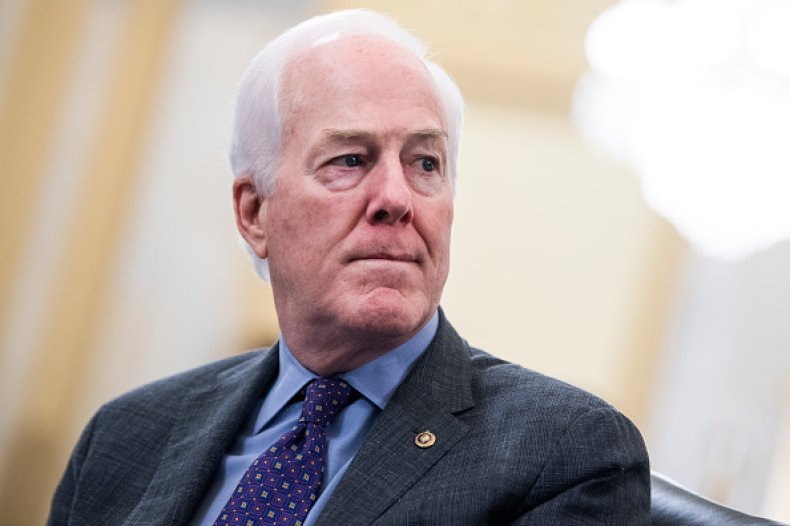 In a statement sent to Newsweek, Kirkpatrick said she had planned numerous visits to Arizona's border towns in the coming weeks to hear from local officials about what they need from the federal government. She said she is also ensuring that federal funds towards COVID-19 protection are being made available to these towns.
"This is not the first time our community has attended to an influx of migrants at our southern border—in the past, we have met this moment courageously, together, even in the face of the Trump administration's cruel policies at the border," the congresswoman wrote. "That said, it is the first time we are challenged by an ongoing health emergency, which adds complexities to the issue. We have met with FEMA, the Tucson DHS Sector, County representatives, the Border Counties Coalition and local humanitarian groups, and it's clear that our local governments and non-profits need more federal help."
Newsweek reached out to the offices of Biggs and Ducey for comment, but did not hear back before publication.