Texas Lawmakers Urge Gov. Abbott to Reverse Mask Mandates Ban in Schools, Cite Delta Variant
A group of lawmakers in Texas is urging Governor Greg Abbott to allow schools to mandate masks as students are set to return in the coming weeks amid the COVID-19 Delta variant surge.
In a petition sent to the governor on Friday, WFAA reported, 31 legislators called on Abbott, a Republican, to reverse a ban on mask mandates in schools and provide virtual learning options for students this fall.
The petition was posted to Twitter on Saturday by Texas State Representative Vikki Goodwin, a Democrat.
"Children under twelve cannot get a COVID vaccine, which means they are vectors of infection for each other, their teachers and their family members. Putting them all in one building without masks is foolish," the petition read.
"The parents and school officials who have contacted us are worried about these children and want to see districts be given the autonomy they need to decide what is best for their students," it continued.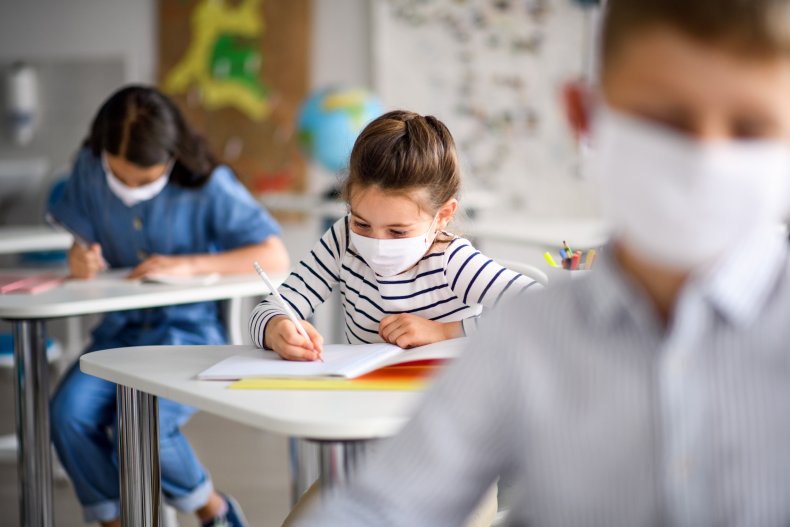 In May, Abbott signed an executive order prohibiting governmental entities—including school districts, counties, cities and public health officials—from issuing mask mandates in Texas.
"The Lone Star State continues to defeat COVID-19 through the use of widely-available vaccines, antibody therapeutic drugs, and safe practices utilized by Texans in our communities," Abbott said at the time.
"We can continue to mitigate COVID-19 while defending Texans' liberty to choose whether or not they mask up," he added.
Abbott's office did not immediately respond to a request for comment from Newsweek for this story.
But earlier this month, Abbott said he was opposed to requiring students to wear masks in school, despite rising cases.
"Kids will not be forced by government or by schools to wear masks in school," Abbott said, according to the Texas Tribune. "They can by parental choice wear a mask, but there will be no government mandate requiring masks."
The legislators petitioning Abbott point to a rise in cases in Texas, referring to a report from Friday showing that state's coronavirus test positivity rate exceeded 10% for the first time since February.
"We now know that even vaccinated people can catch and spread coronavirus. Under these circumstances, we must continue to fight against this virus with all the tools at our disposal," the lawmakers wrote.
On Thursday Jeff Zients, the White House's COVID-19 response coordinator, said Texas was one of the three states that accounted for 40 percent of the country's new coronavirus cases last week. The other states were Florida and Missouri.
"The data is clear: The case increases are concentrated in communities with low vaccination rates," Zients said.
According to state data, 52 percent of Texans over the age of 12 are fully vaccinated.
As the highly transmissible Delta variant continues to spread throughout the country, some local governments have decided to reinstate mask mandates, or are strongly encouraging residents to wear masks in public.