Texas LB Jake Ehlinger, Brother of Former QB Sam, Found Dead in Austin
Jake Ehlinger, a redshirt sophomore linebacker at the University of Texas, was found dead Thursday at an off-campus residency in Austin. The cause of his death is unknown at the time, and the death is not considered suspicious.
Ehlinger is the younger brother of Sam Ehlinger, who was a four-year starting quarterback for the Longhorns. Sam was drafted by the Indianapolis Colts in the sixth round of the NFL Draft last weekend, and an in-home camera focused on Jake at the time when it meant to show Sam.
Sam Ehlinger was elated.
"Good, good," Sam said, according to the Austin American-Statesman. "Jake deserves all the screen time you can get."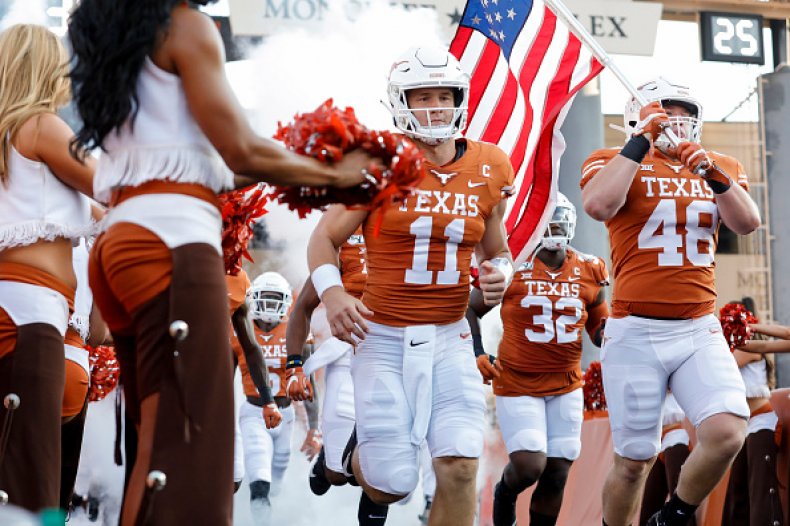 The Ehlinger brothers grew up in Austin, both attending nearby Westlake High School. Jake enrolled at The Forty Acres in 2019, and he did not play the last two years as a freshman or a redshirt season. Jake was a business major who measured at 5-11, 245 pounds, according to his bio on the team's website.
Austin police received a call at 12:18 p.m. CT on Thursday to the 1200 block of West 22nd Street, which is where they found Jake Ehlinger.
Jake and Sam's father, Ross, passed away during the "Escape from Alcatraz" triathlon in San Francisco in 2013.
Sam Ehlinger was in Indianapolis with the team already when he found out the news on Thursday afternoon. The Colts helped Sam get back home to be with family, and coach Frank Reich issued this statement.
"There are no magic words in these moments, but all we can do is be there to love and support Sam," Reich said. "We will do everything we can. With Sam, our thoughts and prayers are with him and his mother and his sister as they mourn the tragic death of Sam's brother, Jake."
Colts owner Jim Irsay also issued a statement, saying his club would do everything they can to help ease the Ehlinger family's pain.
"It's very sad and tragic news that we received this afternoon during such an exciting time for the family, and our hearts and prayers are with the whole family," Irsay said. "I know how close they were, and we're just really stunned, but we are prayerful and we know God has a plan. We are doing everything we can to console the family and do what we can to make things as easy as possible at this difficult time."
Many Texas players, past and present, sent their condolences and since of shock on Twitter, including former former defensive tackle Ta'Quon Graham.
"Fly high 48," Graham tweeted.