Texas Leaders Want Federal Funding, Say Border Infrastructure Can't Handle Migrant Surge
Republican Senator John Cornyn visited the town of Del Rio in his home state of Texas last week where he spoke with community leaders about the challenges their community faces as the nation continues to experience a historic migration surge at the southern border.
Cornyn visited the border town as part of a trip where he looked to tout the Bipartisan Border Solutions Act which he sponsored with the support of co-sponsor Arizona Senator Kyrsten Sinema. During this trip, leaders voiced the need for improvement to the city's border infrastructure.
KXAN-TV, the NBC affiliate in Austin, reported that local leaders told Cornyn that the lack of infrastructure renders the community unable to handle surges, such as the 15,000-person migrant encampment that was set up under the city's border-crossing bridge in September.
"The fact that these migrants showed up in Del Rio was not an accident," Cornyn said during an interview with KXAN. "It was intentional by the smugglers because they know they can flood the zone and overwhelm the capacity of local communities and of law enforcement."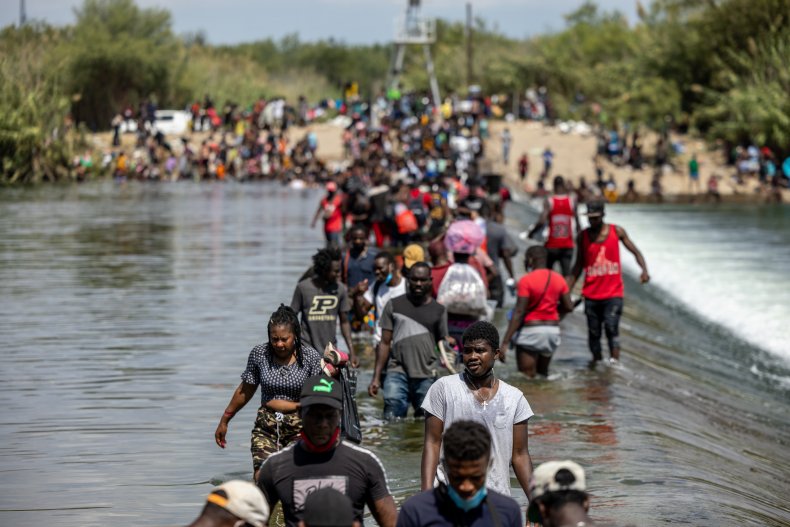 To handle the wave of migration, the city has had to invest its own funds toward border enforcement, KXAN reported. And while the federal government has already doled out some $30 million in reimbursement to border communities, leaders are asking for more funds to cover the costs.
More than 164,000 migrants were encountered by U.S. Customs and Border Protection during the month of October, double that of any total posted in 2020 and 2019. Texas' Republican Governor Greg Abbott has said the federal government has not done enough to curb the surge, implementing his own plan—Operation Lone Star—to bolster border enforcement.
Along with creating a makeshift steel shipping container barricade, Operation Lone Star has resulted in thousands of Texas DPS and National Guardsmen being posted along the border. It also grants these guards the right to arrest migrants for criminal trespassing, something that has further stretched the Del Rio's operational capacities.
"Since Operation Lone Star came in and started arresting all these individuals for human smuggling, now the county incurred a loss of revenue from the jail of almost a quarter million dollars," Val Verde County Sheriff Joe Frank Martinez told KXAN.
The station reported that the city has seen more than 1,400 arrests since Lone Star went into effect on November 7. While it has resulted in some deterrence, leaders reported that the individuals they arrested said the level of deterrence created through the operation is not enough to make them stop coming.
"I'll take the stories I heard here back with me to try to move the needle and hopefully make some progress," Cornyn told KXAN.