Texas Library Cancel Children's Event After Transgender Misinformation Sparks Threats
The Denton Public Library in Texas has announced it is canceling a planned November 20 Rainbow StoryTime event due to safety concerns.
The library has released a statement explaining the decision, blaming inaccurate information about the event for the move.
It said workers have received a number of "disrespectful and hostile comments based on inaccurate information."
Denton Public Library highlighted the importance of providing a safe environment for its programs and clarified what the event was meant to be.
The library said the Rainbow StoryTime event was not focused on teaching children about "gender identity or anything relating to sex or sexual orientation."
It added the library was not, as had been falsely claimed, an event to "indoctrinate children into a transgender way of life."
The statement continued: "The StoryTime event features books about families, friendship and being yourself.
"Its intent is to provide an inviting atmosphere for families to hear stories together featuring books focused on self-acceptance, learning and friendship."
The library added: "This StoryTime occurs three times per year and is scheduled to coincide with days focused on 'different' or marginalized groups, such as Transgender Day of Remembrance in November.
"Due to this, an incorrect program title, using the word 'transgender', was mistakenly used in a recent program printing which now has been corrected."
Denton Public Library highlighted the three titles that were set to be read out to any children attending.
These three titles were Red: A Crayon's Story by Michael Hall, I'm a Girl by Yasmeen Ismail and What Riley Wore by Elana K.Arnold.
None of these titles are explicitly about transgender issues, or indeed use the term "transgender." They are mainly about self-expression and acceptance.
The library encouraged anyone with concerns to either purchase the books themselves or check their descriptions and reviews.
Addressing other concerns, the library noted that there would not have been any external speakers, volunteers or paid performers for this event.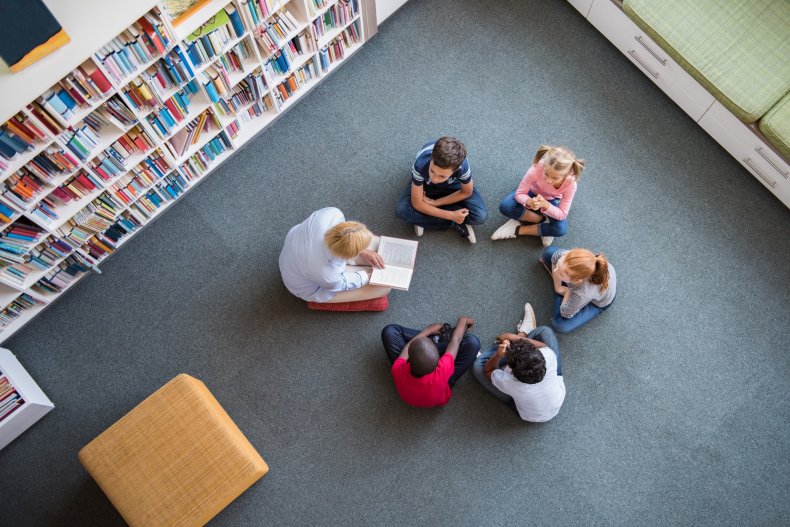 They said the Rainbow StoryTime would be presented by a librarian and a library assistant.
The library said the City of Denton "will work to reschedule the event at a later time" so that families who would benefit can have access to the message of inclusivity, friendship and self-expression.
The library closed by saying that if an individual still remains concerned they are free to complete their statement of concern form.
The Denton Public Library has been contacted by Newsweek for comment.