Texas DMV Rules 'LOKHMUP' Anti-Trump Vanity Plate Is 'Derogatory'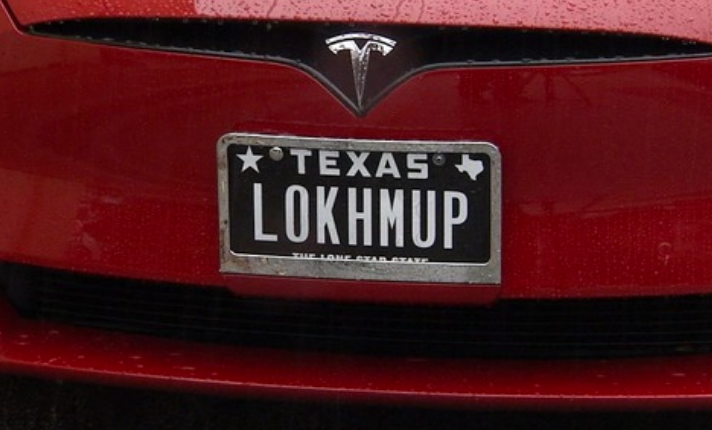 A Texas motorist is being forced to change his anti-Trump "LOKHMUP" vanity license plate after the Department of Motor Vehicles (DMV) received a complaint and deemed it "derogatory."
Dallas resident Bill Moore was inspired to buy the personalized, 7-letter "Classic Black" license plate in 2016 after reports emerged then-GOP presidential candidate Donald Trump had engaged in collusion with the Russian government. In March 2017, he twisted the frequent "lock her up" rallying cry Trump supporters direct at Democrat Hillary Clinton and crafted the "lock him up" letters for his plate, The Dallas Morning News first reported.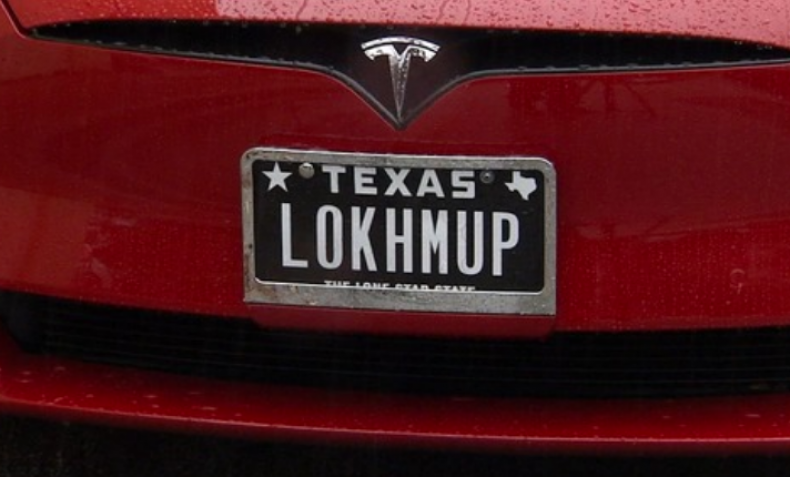 But this past week, the Texas DMV sent him a letter claiming they'd received a formal complaint about the anti-Trump lettering registered to his Tesla. The DMV said his plate would be canceled because it "may be viewed as derogatory" by other drivers.
"I want people to know how I feel," Moore told KDFW-TV Wednesday. "I feel like he should be locked up. "I'll be at a red light and someone will come by, tell me to roll down and they'll say, 'Thumbs up for your license plate.'"
The bureau's code classifies a derogatory message as "an expression that is demeaning to, belittles, or disparages any person, group, race, ethnicity, nationality, gender, sexual orientation, or refers to an organization that advocates such expressions."
"So he can say lock her up, but I can't say lock him up? I don't understand the difference," Moore noted.
But a Texas DMV spokesperson told KDFW-TV the letters "LOKHRUP" are also barred from personalized plates for identical reasons. Moore said he doesn't want to let the government "chip away at our rights" and he'd prefer to have the state allow both "lock him up" and "lock her up" license plate messages.
Moore told he plans to appeal the DMV ruling: "I'm not inciting violence. It's just my thoughts that (Trump) is a criminal and he needs to be locked up, just like at his rallies when he says that all these other people are criminals and they should be locked up," Moore told Fox4. "It's the same difference, only no one controls him. But yet I'm a citizen being told that I can't do the same thing."