Texas Lieut. Gov. Offering Up to $1 Million for Voter Fraud Evidence
Texas Lieutenant Governor Dan Patrick on Tuesday announced that he was offering up to $1 million from his campaign fund in reward to whistleblowers and tipsters for evidence of voter fraud.
In a press release issued on Tuesday, Patrick's office wrote that, "starting today he will pay up to $1 million to incentivize, encourage and reward people to come forward and report voter fraud. Whistleblowers and tipsters should turn over their evidence to local law enforcement."
According to the release, anyone who provides information that leads to an arrest and final conviction of voter fraud will be paid a minimum of $25,000.
"I support President Trump's efforts to identify voter fraud in the presidential election and his commitment to making sure that every legal vote is counted and every illegal vote is disqualified," Patrick wrote in the release. "President Trump's pursuit of voter fraud is not only essential to determine the outcome of this election, it is essential to maintain our democracy and restore faith in future elections."
While speaking to Newsweek, a spokesperson for the Federal Elections Commission said that Patrick would not be covered under federal campaign finance law and noted that if he is drawing funds from his campaign account, it would be considered a state fund.
Newsweek was directed to the Texas Board of Elections, who did not respond to a comment request. Newsweek also reached out to the Texas Board of Ethics for comment.
Jerry Goldfeder, who has been practicing election law for 40 years at Stroock & Stroock & Lavan in New York told Newsweek that "it's not a proper use campaign funds. Campaign funds are to be used for a campaign," while adding that campaign funds are not to be used to try and persuade or pay people.
"I would say that it sounds wholly improper," Goldfeder told Newsweek.
Patrick's announcement comes amid election turmoil, as several news networks have projected Joe Biden to be the winner of the 2020 presidential race, while President Donald Trump and some fellow Republicans have made seemingly baseless claims of widespread voter fraud.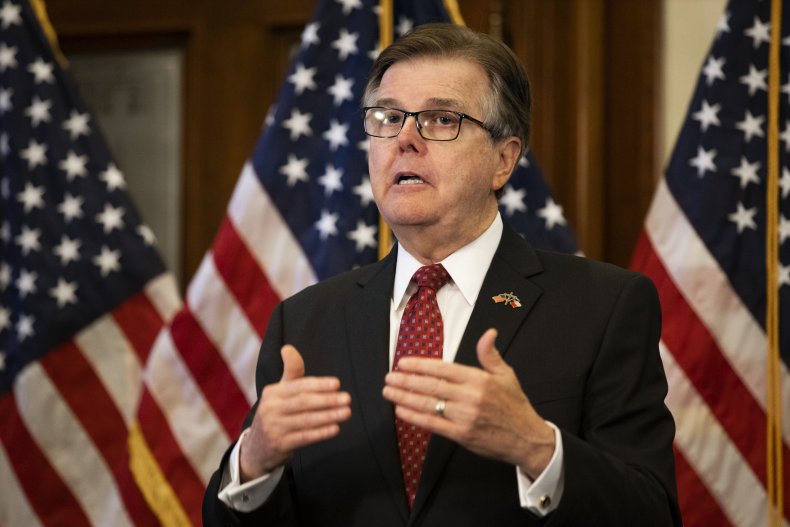 "In Texas we know voter fraud is real. In just the last 60 days, we have had three major arrests on voter fraud including a social worker who was arrested last week for allegedly registering almost 70 developmentally disabled adults to vote without their signature or consent," Patrick wrote in the release. "In Texas, we also know that it is possible to provide the results of mail-in ballots on Election Day. We counted 970,000 mail-in ballots last Tuesday—a 55% increase over 2018—and added those results to the in-person voting total before midnight on Election Day."
On Monday, Attorney General Bill Barr announced that he was authorizing attorneys across the U.S. to open election fraud investigations "if there are clear and apparently-credible allegations of irregularities that, if true, could potentially impact the outcome of a federal election in an individual State."
Newsweek reached out to Patrick for comment but did not receive a response in time for publication.