Texas Lifts COVID Restrictions As Vaccine Rollout Lags Behind Most States
Residents of Texas are no longer under a state mask mandate and businesses can open at 100 percent capacity—but the health crisis is far from over.
The loosening of COVID restrictions came into effect about a week after Governor Greg Abbott said the Lone Star State would be able to protect citizens from COVID thanks to the rollout of multiple vaccinations, alongside antibody therapeutic drugs.
But Texas is still recording thousands of new cases per day, and vaccine tracking data has suggested its rollout is lagging behind other states.
According to metrics from The New York Times, as of March 9 Texas was in the bottom 10 states in terms of performance, with about 16 percent of its residents administered with at least one dose and 8.5 percent of people considered fully vaccinated.
The only states below it on Tuesday were Tennessee, Alabama and Georgia. The data was broadly correlated by The Washington Post's own tracker, which listed Texas' share of the population that had at least one dose as 15.8 percent.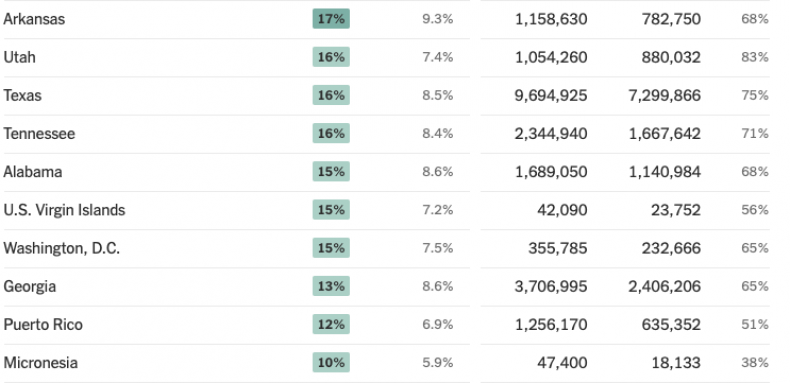 On Tuesday, Gov. Abbot said that more than 220,000 people in Texas had been given a COVID vaccine shot that day, with over 51 percent of seniors now administered.
"The positivity rate has dropped for 15 straight days & is now down to 6.6 percent. Keep up the great work to crush COVID in Texas," he said in a tweet.
A dashboard being maintained by the Texas Health and Human Services says the state has administered 6.9 million doses, with 2.4 million people fully vaccinated.
Data from Johns Hopkins University said Texas recorded 5,629 new cases over the past day, plus 171 deaths. Its figures said over 7.2 million doses had been administered, and approximately 8.58 percent of the population was now fully vaccinated.
Under the new rules in Texas, businesses can still implement safety measures and limit capacities—but face-coverings will not be as strictly enforced in public.
Residents should not expect a return to pre-COVID lives, however, as retailers, grocery stores and pharmacies such as Target, CVS and Walgreens will still require masks.
In addition, face coverings will be required in the city of Austin until at least mid-April. "If state officials don't want to do their jobs protecting people from the virus, then we will," Austin City Council member Greg Casar told Newsweek in an email this week.
On March 2, Gov. Abbott said the rule change was needed to "restore livelihoods and normalcy" but conceded COVID has not disappeared in the state.
"[The] announcement does not abandon safe practices that Texans have mastered over the past year. Instead, it is a reminder that each person has a role to play in their own personal safety and the safety of others... we are ensuring that all businesses and families in Texas have the freedom to determine their own destiny," Abbott said.