Texas Longhorn Band Won't Play Saturday Because of 'Racist' School Song
The Texas Longhorns football team will face the Baylor Bears this Saturday without the UT band blasting tunes from the bleachers. It's not because the football team has lost two-consecutive games—that's become commonplace on the Forty Acres. The band can't come to grips with playing the school song.
Members of the University of Texas marching band, also known as the "Showband of the Southwest," can't come to a mutual agreement about playing "The Eyes of Texas."
Many believe the school song has racial undertones, and that prompted several UT athletes this summer to demand a discontinuance of the song. The athletic and PR departments have played damage control from within, but it has since leaked into other parts of the school, campus and the state.
Before getting into the background of the song and its ties, here's what's currently happening with the school's band:
The band conducted an internal survey about the song, and band director Scott Hanna told the school newspaper, The Daily Texan, that "based on (survey responses), we do not have the necessary instrumentation, so we will not participate in Saturday's game" against Baylor.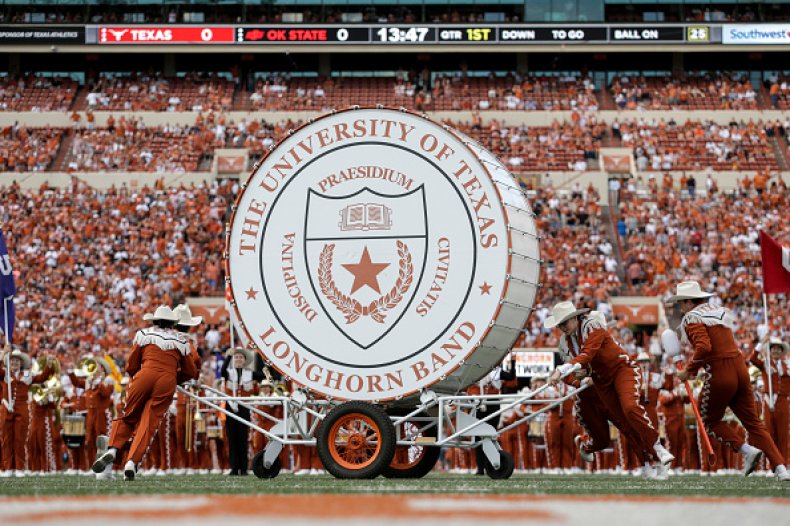 Hanna told The Texan that the band was "evenly divided" in opinions about the school song.
"Moving toward resolution takes time and sustained effort," Hanna said. "The conversations that have started are an important step toward that goal."
School officials confirmed on Wednesday that the band will not play at this week's Texas home game against Baylor, according to the Austin American-Statesman.
The song "The Eyes of Texas" was written in the early 20th century, and it's set to the famed "I've Been Working on the Railroad." The first-known performance of "The Eyes of Texas" was in the early 1900s by white singers wearing blackface at the Varsity minstrel show.
This summer, after the May 25 death of George Floyd in Minneapolis, Minnesota, there were nationwide protests against police brutality against Blacks. In June, about 40 athletes from the University of Texas asked the school to nix the school song. They posted a letter on social media.
"On behalf of the UT student athletes, we ask to have the following issues addressed through the implementation or a plan for implementation at the start of the fall semester," the letter stated. "The recent events across the country regarding racial injustice have brought to light the systemic racism that has always been prevalent in our country as well as the racism that has historically plagued our campus."
The school song is played during the game, but mostly at the end of every game, and players typically stand on hold the "Horns Up" sign with their hands. Many players felt like they were pressured to sing the tune.