Texas Lt. Gov Dan Patrick Aims to Remove CRT, Professor Tenure in Colleges
Texas Lieutenant Governor Dan Patrick wants to take critical race theory (CRT) out of state-funded universities and colleges, as well as do away with professor tenure in those institutions of higher learning.
Patrick announced his intention to alter education in the Lone Star State Friday morning, according to KXAS-TV. He plans to fight against CRT and professor tenure by introducing a bill that would do just that in the state's upcoming legislative session.
During a press conference Friday, Patrick said that while not all professors are teaching CRT, it's a problem that needs a solution, according to KXAN.
"We are not going to allow a handful of professors who do not represent the entire group to teach and indoctrinate students with critical race theory—that we are inherently racist as a nation."
In a release posted on the lieutenant governor's website, Patrick claimed that tenured professors are using CRT to damage the minds of students. He also said that whenever confronted with their destructive practices, professors latch onto rather lame and weak excuses to protect themselves.
"Tenured professors must not be able to hide behind the phrase 'academic freedom,' and then proceed to poison the minds of our next generation."
To combat the problem, Patrick says that the removal of tenure for all professors who teach at state-funded universities will be proposed in the bill. Additionally, included in Patrick's proposed bill will be changing the time between reviews for those professors who already have tenure. Instead, Patrick hopes to change the reviews from every six years to annually.
Also, even if a professor already has tenure, he would like to make it easier to do away with those who are found to be teaching CRT.
"Additionally, we will define teaching Critical Race Theory in statute as a cause for a tenured professor to be dismissed."
Patrick's move comes after the Faculty Council at the University of Texas recently and overwhelmingly passed a nonbinding resolution protecting those who provide instruction on such areas a critical race theory, race and gender, according to the Austin American-Statesman. The resolution states that the university and not elected officials will decide what is taught at the school.
However, Patrick said that despite moves and resolutions like the one recently passed by the University of Texas, KXAN reports that such places will be forced to adhere to whatever bills politicians pass.
"We are those who distribute taxpayer dollars. We are the ones who pay their salaries. The parents are the ones who pay tuition. Of course, we're going to have a say."
In the previous legislative session, according to the Statesman, Republicans in the state placed limitations on the teaching of CRT in K-12 education.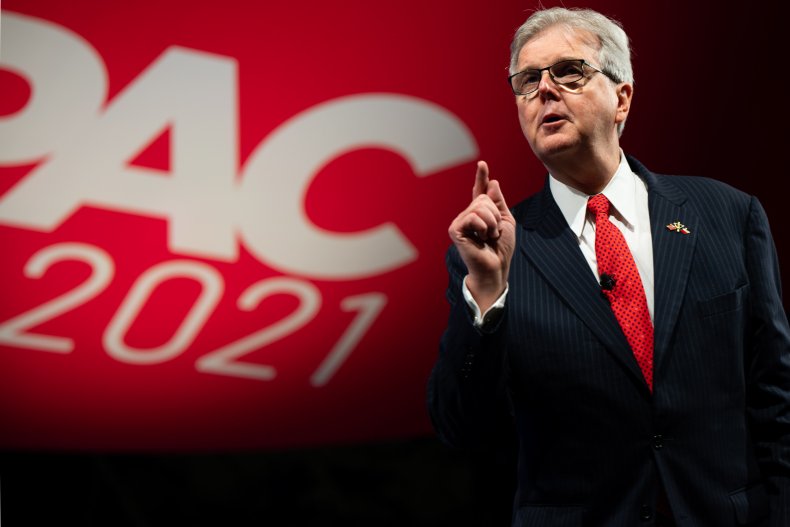 In response to Patrick's plan announced Friday, Mike Collier, a Democratic candidate for lieutenant governor in Texas passed along the following statement to Newsweek: "In an attempt to distract from his recently revealed, egregious vote-by-mail scheme, today, Dan Patrick threatened authoritative actions that challenge the integrity of our professors and of our public universities.
"Ending tenure for university professors will destroy every public university in the state of Texas by eliminating competitive job opportunities for academic leaders. Whether it be Texas Tech or Texas A&M, the University of Houston or the University of Texas, we will see an exodus of our state's best and brightest, doing massive and irreparable damage to our economy. If Dan Patrick has his way, Texas will lose thousands of jobs, billions of dollars in business, and forever tarnish the prestige of Texas.
"Eight years of Dan Patrick have made one thing clear: Dan Patrick will sacrifice our public schools and our state for his own political gains."
Newsweek reached out to the lieutenant governor's office for further comment but did not hear back before publication.