Texas Lt. Gov. Wants Biden to Ask Trump to 'Negotiate With Mexico for Him' Amid Border Crisis
Republican Texas Lieutenant Governor Dan Patrick has urged President Joe Biden to recruit former President Donald Trump to "negotiate with Mexico" on border policy.
Patrick made the remarks during an interview with Fox News anchor Bill Hemmer on Monday. Patrick was discussing the Biden administration's plan to reinstate Trump's "remain in Mexico" policy following a court order. The administration is planning to put the policy, officially known as the Migrant Protection Program, back into effect in mid-November.
"What [Biden] needs to do is ask Donald Trump to come back and negotiate with Mexico for him," Patrick said. "Because he obviously cannot negotiate his way out of Afghanistan, he cannot negotiate with issues along the border. And Mexico found a way to work with President Trump to be sure that we kept the MPP—the Migrant Protection Protocols—in place. And it was a consistent policy, Bill, that helped reduce the flow of people coming to this country illegally."
"And right now we are looking at over a million people apprehended this year, meaning probably another 2 or 3 million have come in illegally," he added. "It's out of control on the border. And the president, by the way, we can't wait until mid-November—he needs to do this today."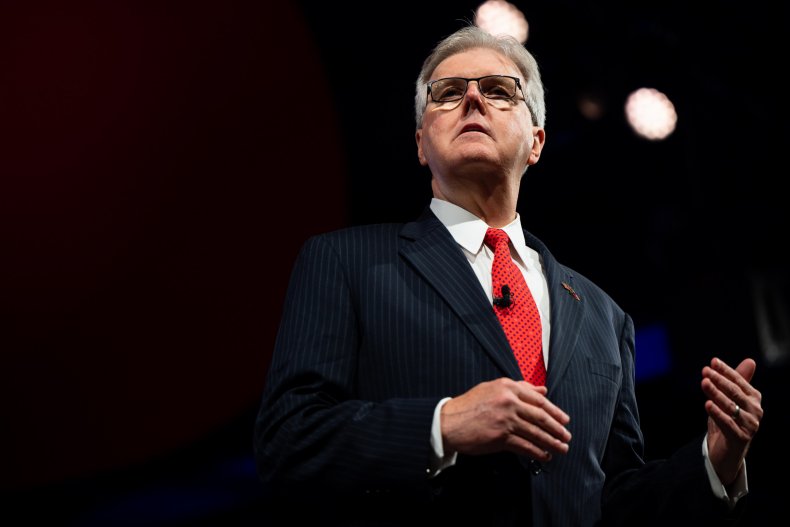 The policy requires migrants seeking asylum in the U.S. to wait in Mexico while their immigration court hearings are pending. While running for president in March 2020, Biden vowed to end the policy in a tweet that described it as "dangerous, inhumane, and goes against everything we stand for as a nation of immigrants."
The Biden administration eliminated the policy in June following an internal review, with Homeland Security Secretary Alejandro Mayorkas writing in a memo that the program did "not adequately or sustainably enhance border management in such a way as to justify the program's extensive operational burdens and other shortfalls."
A Trump-appointed federal judge ordered that the department make a "good faith effort" to reinstate the program in August, which was later backed by the Supreme Court. Although the administration is preparing for the program's reintroduction next month, it can only go into effect with the approval of the Mexican government. Mexico has not yet granted approval but has expressed multiple concerns and suggested that some provisions of the policy should be modified.
Patrick suggested that the Biden administration should increase efforts to "secure the border" in the event that Mexico does not grant permission for the policy's return. When Hemmer asked whether Biden would "pressure Mexico City to get the policy reinstated," Patrick conceded that the president likely would not do so "unless he brings Trump in to do the negotiation."
A Quinnipiac University poll released in late September found that only 20 percent of Texas voters approve of Biden's handling of the U.S-Mexico border. While 51 percent of respondents to the same poll said that the state's Republican Governor Greg Abbott "doesn't deserve to be reelected," Abbott more than doubled Biden's border approval rating at 43 percent.
Newsweek reached out to the White House for comment.