Texas' GOP Lt. Gov. Says BLM Will Indoctrinate Students With Communism
The lieutenant governor of Texas has said Black Lives Matter as a group is a "communist organization" accusing it of indoctrinating students to follow that political ideology.
Lt. Gov. Dan Patrick, a Republican, said while he believes each black life matters he took issue with the group, also known as BLM, specifically.
The movement, which has factions worldwide, has backed protests on racial inequality prominently in recent years and come to the fore of public discourse following the death of George Floyd in Minneapolis.
Widespread protests across the nation have been carried out under the Black Lives Matter banner, with signs and murals outlining the slogan seen across demonstrations.
Patrick criticized some of the Black Lives Matter movement's positions, in an interview with Fox News, criticizing its actions towards the education system.
He said: "I look at this and I think most Americans look at this the same way, we know that each black life matters. But Black Lives Matter, as a group, they're a communist organization. And what you played earlier, they're trying to take over the school boards, take over the education system.
"Not will it just indoctrinate these students to embrace communism, it will turn them against their own parents because this is not the way we grew up. People in America need to understand Black Lives Matters is a communist organization but each black life matters is important to every one of us."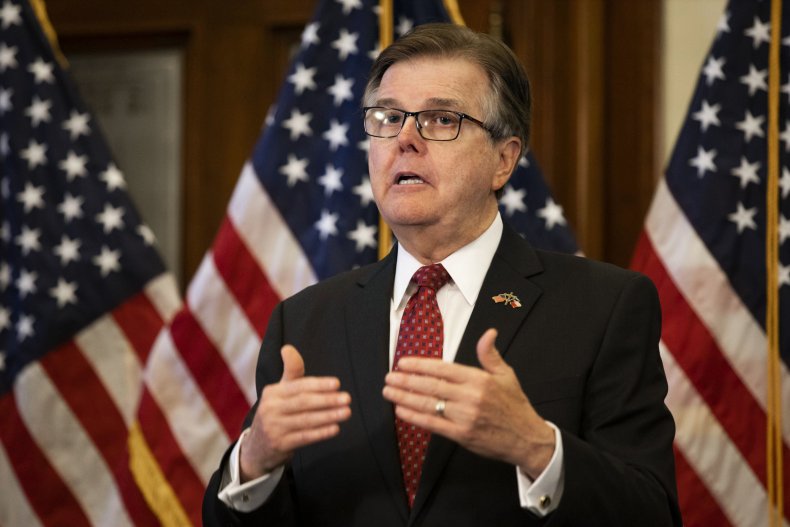 It is not the first time Patrick has been critical of BLM. He has previously criticized the movement's stance toward police, stating in 2016 that he blamed protesters linked to it for violence against police.
Black Lives Matter has called for a raft of social reforms, some of which have faced criticism.
A major one of these messages is the desire to defund the police, which has gained prominence amid the worldwide demonstrations.
This calls for a push to reduce police force budgets, with some urging the complete abolition of law enforcement, in order to move the funds in to other areas.
These would include funding community and educational programs.
Members of the group have insisted they will continue to protest until demands are met.
"If this country doesn't give us what we want, then we will burn down this system and replace it," Hawk Newsome, chairman of Black Lives Matter of Greater New York, said in a previous interview with Fox News.
Newsweek has contacted the Patrick's office and Black Lives Matter for comment.