Texas A&M Statue Of Confederate Army General Defaced With the Word 'Racist' and Rainbow Wig
A statue on the campus of Texas A&M University was defaced with several messages on Tuesday night, including the word racist.
The Lawrence Sullivan Ross statue, which stands in the center of the university's Academic Plaza, also had 'BLM,' a reference to the Black Lives Matter movement, and 'ACAB,' or all cops are b--tards, written on the base in red spray paint. Other graffiti was painted onto the body of the statue, and a rainbow wig was placed on top of its head.
Photos of the statue were shared to Twitter on Wednesday morning.
In a statement sent to Newsweek via email, Texas A&M President Michael K. Young wrote, "We became aware of the incident this morning and have immediately begun to engage experts to assess damage to the statue. We ask our Aggie community for peaceful discourse."
According to KBTX News in Texas, campus employees quickly covered the statue with a tarp after the graffiti was discovered just after sunrise.
The statue honored Lawrence Sullivan 'Sul' Ross, a Confederate Army general during the Civil War. Ross eventually became the 19th governor of Texas and served as the president of Texas A&M University from 1891 until his death in 1898.
The statue of Ross was first placed on the A&M campus in 1918, making it the school's oldest statue, but there have been recent calls for its removal amid protests against police brutality and systemic racism. For several weeks a petition that calls for the statue to be removed from the campus has circulated and thus far as gained over 19,000 signatures.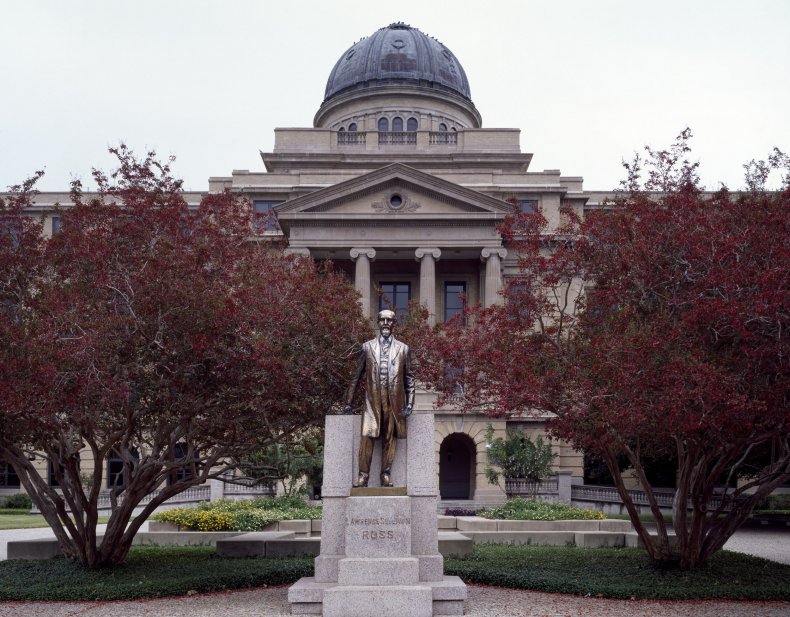 "The Aggie community needs to be more inclusive. The statue of Lawrence Sullivan Ross, commonly known as Sully, is placed in the Academic Plaza. While Sully made strong contributions to Texas A&M, he served as a Confederate General, saw Blacks as inferior, did not support integration, and was against woman's suffrage," the petition says. "Ross symbolizes a period of time at Texas A&M when Black students would not be allowed to walk on our campus. It is time to take down this statue and show our Black community and the world that Texas A&M is ready to move on from the past, and look towards a more inclusive future."
Texas A&M's fellow Southeastern Conference school, the University of Mississippi, saw a Confederate statue on its campus vandalized on May 30. That statue, which has been under consideration for relocation for months, had the words 'spiritual genocide' spray-painted along each side of its base along with bloody red handprints. Zachary Borenstein, a 30-year-old high school math teacher, was arrested in that case.
Several other Confederate monuments have been vandalized amid the ongoing protests. In North Carolina, a Confederate statue at the state's capitol building was defaced with a black "X" and in Charleston, South Carolina, another statue was spray-painted with words including "BLM," and "traitor." Other cities, including Richmond, Virginia and Birmingham, Alabama, have recently removed Confederate statues from public areas.