Texas Woman Accused of Throwing Malnourished Dog out of Her Car Window
A woman in Texas has been arrested after she was allegedly seen throwing a malnourished puppy out of a car.
Princess Franklin, 31, has been charged with one count of cruelty/abandonment to a non-livestock animal after Harris County Precint 4 deputy constables received a call that a female driver threw a dog out of her vehicle before fleeing the scene on Sunday, October 13.
The person who made the call stayed on the line and was able to provide police with a description of both the suspect and the car.
The vehicle was later located at the 1200 block of Will Clayton Parkway, with Franklin identified as the driver.
She said that was attempting to get rid of a puppy which belonged to a former roommate of hers who left no forwarding information.
After unsuccessfully trying to find a new place for the puppy, Franklin said she decided to just leave it on the side of the road.
Police returned to where Franklin allegedly threw the puppy out of the car, but could not locate it. The following day, Harris County Precinct 4 received a call concerning a puppy in the 18400 block of the Continental Parkway, which was later confirmed to be the same one.
The puppy is now in the care of Harris County Animal Control. Workers said the dog can barely stand up because of the length of its nails and being so severely underweight following what is likely months of neglect.
"I mean, it's definitely not an overnight thing obviously," Shannon Parker, of the Harris County Animal Shelter, told KTRK. "It would definitely take quite some time to have a dog this emaciated."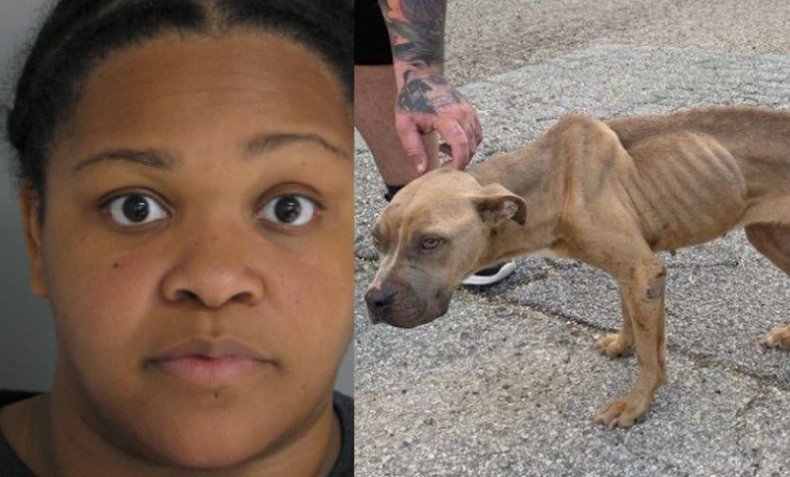 Once the dog has made a full recovery, it will be available for adoption for a home which understands how to care for an animal which requires a lot of medical attention.
"She's going to take not just a bowl of food here and there to get her back to where she needs to be and to make sure her organs are functioning properly," Parker said.
Parker added that despite the abuse and neglect, the dog is still friendly towards humans at the shelter.
Following her arrest Franklin was booked into the Harris County Jail, with her bond set at $100, Harris County Constable Mark Herman said in a statement.
An animal cruelty investigator has been assigned to the investigation to determine if additional charges against Franklin are warranted.