Texas Man Allegedly Shoots Burglar and Returns to Bed for Two Hours Before Calling Police
A Dallas man has been charged with murder for allegedly shooting a burglar in the early morning and going back to sleep for around two hours before calling the police.
James Meyer, 72 of Old East Dallas, reportedly shot and killed a burglar at 5 a.m. on Thursday, according to the Associated Press. He then went back to sleep and called the police at 7 a.m. to report a home invasion, according to an arrest warrant affidavit filed in connection to the case.
The Dallas Morning News also reported that Meyer's wife called a defense attorney before the police were called.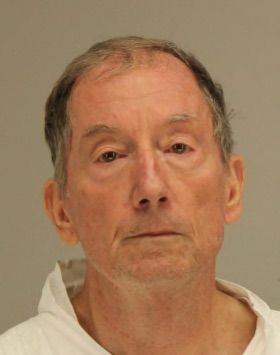 James Meyer is accused of murder after allegedly shooting a burglar and waiting almost two hours to report it.
Dallas Police Department
Meyer told police that he was awoken around 5 a.m. by a noise and saw through his window a burglar trying to break into his storage shed with a pickaxe.
Meyer loaded his gun and told the person to stop and not come closer or he would shoot. The burglar took several steps toward Meyer, who fired a shot. The burglar dropped the pickaxe, turned and ran towards a park behind the house, and Meyer fired again "into the night," according to the affidavit.
Texans have a right to use force in self-defense if they are attacked; unlike in some states, Texans are not legally required to retreat from an attack before resorting to force, as long as they are legally allowed to be where they are when the attack happens.
Meyer was legally allowed to be on his property during the home invasion, but investigators are questioning if he was really under attack. They noted in the affidavit that "from the suspect's accounts, the threat of serious bodily injury against him was over when the complainant dropped the pickaxe and ran off."
Meyer told police that he did not know at this point if he had hit anyone. He went back to bed, and as the sun began to rise around 7 a.m. saw what he thought was a black bag in the park, but realized it was the burglar's body lying face down.
Meyer's wife called an attorney for advice, according to USA Today. Meyer then called 911; according to the affidavit, he refused to answer the dispatcher's questions, saying repeatedly that he was the victim of a home invasion and that medical assistance was needed.
Investigators arriving at the scene found dried blood on the burglar's body, indicating he had been dead for some time before they arrived. They also couldn't find any shell casings, which Meyer said he had thrown in the trash.
Neighbors told investigators that they heard three shots around 5:15 a.m., as opposed to the two shots Meyer reported firing, the Dallas Morning News reports.
As of the morning of Friday, September 27, the Dallas Morning News reported that Meyer's bail was set at $150,000 and he was being held at the Dallas County Jail. On Sunday, September 29, though, USA Today reported that Meyer was no longer in custody, and no information about an attorney was available.